The development of Taiwanese Buddhism
Taiwan Today, Apr 29, 2011
Taipei, Taiwan -- The origin of Taiwan's Buddhism dates back more than 300 years, to the time when Han Chinese began immigrating to Taiwan during the late Ming and early Qing dynasties.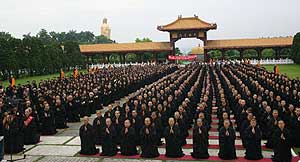 << Monastics and people practicing Buddhism at home gather at Fo Guang Shan Monastery in Kaohsiung for a worship event. (CNA photos)
Chiang Tsan-teng, a historian of Taiwanese Buddhism, subdivides the earlier forms of Buddhism in Taiwan into "meditative Buddhism," emanating from Chan (Zen) monasteries, and "incense-and-candles Buddhism," centered on ordinary people's sacrifices and prayers for good fortune.
It was the latter which flourished in the temples of Taiwan's western plains during the Qing dynasty, becoming the main form of Buddhism practiced in the frontier territory, according to Chiang.
The popular zhaijiao, or vegetarian religion, movement also entered Taiwan during the mid-Qing. It attracted a large following, especially among unmarried and widowed women, who were forbidden from becoming monastics. The vegetarian halls in which they practiced and where some took up residence became a distinctive feature of Taiwanese society.
Zhaijiao would continue to have a strong influence, especially when, under pressure from Japanese Buddhist sects during the era of Japanese colonial rule (1895-1945), many adherents joined Taiwan's mainstream Buddhist communities.
Development of Buddhism during the colonial era can be divided into three main periods. The first of these, characterized by the authorities' tolerance of local practices and beliefs, led to large Buddhist organizations that transcended their original local bases.
The four largest centers were Lingchuan Chan Temple in Keelung, Lingyun Chan Temple in New Taipei City, Fayun Temple in Miaoli County and Chaofeng Temple in Kaohsiung. Meanwhile, the Xuanjing-Chuanfang sect that emerged from Kaiyuan Temple in Tainan was quietly expanding its influence.
This first phase ended when the Xilaian vegetarian hall in Tainan was used as a center of anti-Japanese activities by Yu Ching-fang and his followers during the Tapani uprising of 1915.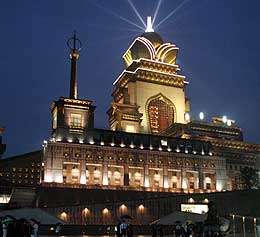 << Chung Tai Chan Monastery shines at night in Nantou County. Chung Tai, famous for its flashy architecture, is an example of Taiwan's touristic Buddhism.
Japanese officials reacted with fear and vigilance. After carrying out an islandwide investigation of religious practices, they embarked on a unified and systematic attempt to bring followers of vegetarian Buddhism under Japanese control.
Thus the second period, roughly from the end of World War I to the outbreak of World War II, was characterized by the propagation of Japanese schools of Buddhism and establishment of "branch temples" in Taiwan. Buddhist educational institutions were also established, with outstanding students sent to Japan for advanced training.
"This is the first golden era in the development of Taiwan's Buddhism," Chiang said. "Debate over religious practices emerged as Japanese monks, unlike their Taiwanese counterparts, were allowed to marry and eat meat. Local Buddhist organizations started publications and for the first time sent representatives to the East Asian Buddhist Conference in Tokyo, encouraging international dialogue and promotion of new ideas."
The third stage coincided with the last decade of colonial rule (1936-1945), after Japan launched its armed invasion of mainland China. To avoid Taiwanese sympathy for their besieged fellows, the imperial authorities promoted a Japanization cultural policy.
This accelerated Japanese influence over Taiwanese Buddhism and turned the religion into a tool of state control used, for example, in its military mobilization program. Ideological indoctrination through Buddhist training posts established throughout Taiwan meant that, until Japan's retreat from Taiwan in 1945, indigenous Buddhism completely lost its autonomy.
Chiang divides Taiwan's postwar Buddhist history into three phases. The first transitional laissez-faire stage lasted just five years, however, and ended when the Kuomintang government began a 38-year period of martial law in 1949.
During this second phase, monastic exiles from the civil war in mainland China, supported by the ruling KMT, monopolized the right to transmit Buddhist teachings and took a leading role in determining the direction of the religion's postwar development in Taiwan.
"This led to the active destruction of any trace of Japanese Buddhism, including the selling off or rebuilding of many beautiful Japanese-style temples," Chiang said. "More subtly, it introduced the idea that monastic Buddhism was superior to at-home practices."
This was somewhat subverted, however, by the emergence of a media-savvy, touristic, showman style of disseminating Buddhism, said Chiang. The most quintessential example was Dharma Master Hsing Yun and his Fo Guang Shan, or Buddha Light Mountain, Monastery. Similarly, the giant concrete statue erected at Mt. Bagua in Changhua County, in imitation of the large bronze Buddha at Kamakura in Japan, was an early harbinger of Taiwan's "touristic Buddhism."
Nevertheless, "the influences of Buddhist dissemination and development in the first two decades of martial law were manifestly weaker than those of Protestantism and Catholicism in the same period," Chiang explained. "This can be exemplified by the smaller number of Buddhist institutes of higher learning compared with Christian universities at that time."
Taiwan entered another golden age of Buddhist development, Chiang said, as Taiwan's economy bloomed and saw an explosion of career opportunities despite a series of diplomatic setbacks in the 1970s, such as the ROC's departure from the United Nations in 1972 and the United States' breaking of formal diplomatic relations with Taiwan in 1979.
Three other groups emerged to join Fo Guang Shan as Taiwan's big four Buddhist organizations with extensive social influence: the Buddhist Compassion Relief Tzu Chi Foundation based in Hualien, Dharma Drum Mountain organization in Taipei and Chung Tai monastery in Nantou. The rapid growth of all four in the 1970s ushered in the pinnacle of local Buddhist dissemination.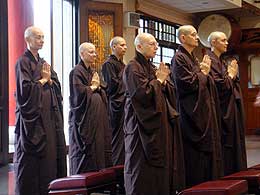 Six foreign monastics received ordination at a temple in Taiwan, which has long been known for its extensive Vinaya >>
Taiwan's traditional vegetarian religion found itself in an awkward predicament, however. Labeled non-Buddhist by the orthodox monastic communities, many underwent forced "Buddification," with vegetarian halls becoming Buddhist temples and many followers taking the tonsure to become bhikkhuni nuns.
The long history of zhaijiao's influence on Taiwan's religious culture was not entirely lost, however, as the I-Kuan Tao religion, which was born out of the Xiantian school of zhaijiao, flourished in Taiwan as well as gaining a foothold in all corners of the globe.
The lifting of martial law in 1987 and the promulgation of the Organic Act of Civil Organizations initiated the third phase of Taiwan's postwar Buddhist development.
After citizens were allowed to travel across the strait, either to visit relatives or for tourism, the hegemony of the government-backed Buddhist Association of the Republic of China declined, and a more equitable, pluralist propagation of dharma teaching emerged, said Chiang. Restoration of cross-strait exchanges meant indigenous Buddhism was reinfused with developments in mainland China and geared toward a new direction, he added.
Among the meditative and spiritual practices followed today, of particular note are the various schools disseminated by Tibetan monks in exile, as well as the teachings of Burmese, Sri Lankan and Thai teachers who have made their way to Taiwan, according to Chiang. "The educated class has also embraced the humanistic Buddhism espoused by Dharma Master Yin Shun and the confluence of Buddhism and environmental protectionism, and have engaged in the critical debate and reform of earlier malpractices," Chiang said.
Chiang said, however, that with female monastics far outnumbering their male colleagues, an even more profound revolution on Taiwan's Buddhist scene can be expected in the near future. (MCG-HZW)
---------
This article was first published by Taiwan Today at http://taiwantoday.tw/ct.asp?xItem=162073&ctNode=427. Translation and editing by staff of Taiwan Today with the permission from Commercial Times.