Asian NGOs, awash with cash, ride a wave of economic growth
by Cain Nunns, Guardian Weekly, Tuesday 26 July 2011
Western aid gap is being filled by thriving NGOs in Asia, which apply business techniques to charitable ends
Taipei, Taiwan -- Yeh Ci-xing wasn't expecting a tectonic shift in her core values or the genesis of major lifestyle changes after picking up an in-flight magazine. They aren't intended for that. What they did contain, particularly in 1988, were pithy distractions from the boredom, bad food, and secondhand smoke-filled cabins that were the hallmarks of long-haul flights.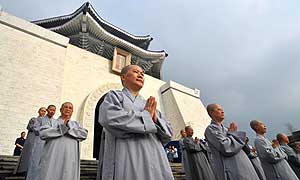 << Nuns from Taiwan's leading Buddhist group Tzu Chi pray in downtown Taipei to celebrate Buddha's birth anniversary. Photograph: Patrick Lin/Getty
"I was so moved by an article about Tzu Chi that I signed up within a few days of touching down in Taipei. And I've been with them ever since," says the full-time volunteer for Taiwan-based NGO Buddhist Compassion Relief Tzu Chi Foundation. "I've learned to expect the unexpected."
And so have millions of others.
In the 45 years since it chiselled out a home for itself in the mountainous eastern province of Hualien, Tzu Chi has grown from a group of 30 housewives, led by the charismatic female Buddhist Master Cheng Yen, to Asia's largest charitable NGO. Today the foundation has branches in 52 countries. It can call on more than seven million members and donors worldwide, and has provided humanitarian relief in 72 countries.
But Tzu Chi is far from the only Asian NGO to be expanding its work. The continent is booming in economic terms, and many of the north-east Asian-based NGOs in particular are reaping the benefits. Not only has donor funding surged over the last decade, but the number of Asian aid organisations seeking out development opportunities overseas has also grown rapidly.
Lee Kyung-shin, a spokesman for the South Korean umbrella group Korea NGO Council for Overseas Cooperation, explains. "From 2000, there has been a dramatic increase in the number of local NGOs that are working overseas," she says. "Local economic development shares a symbiotic relationship with the growth of NGOs, and it has been crucial in allowing them to spend more on marketing and increasing public awareness on the need for development."
By mirroring many of the region's corporate successes, a host of home-grown civil society groups have been applying what works in business to charitable causes. Much like the low-end manufacturing models that were the drivers of regional economic growth, there has been a push to slash the sort of administration and salary expenditures that cause concern to many western donors. The use of volunteers as opposed to hired staff and the introduction of business practices to charities are also helping to buttress record Asia-wide philanthropy.
"We have over 70,000 volunteers just in Taiwan," says Yeh. "But what makes us a little different is that we pay our own way for everything. If we go on an aid mission overseas, we cover our own costs. The less we spend of Tzu Chi's money, the more we have to give to those who need it most."
It is a concept that is drilled into volunteers as soon as they sign up for missions that extend from Burma to as far afield as Iraq and Haiti: spend less, use less, and give more.
But it's not the only reason Tzu Chi's Taiwan branch was able to hand out a record $320m in 2010. The foundation has also opened businesses that put profits back into development coffers. And some of them are ingenious. One such outfit, Da Ai Technology, operates more than 400 plastic bottle recycling points across the island. The bottles undergo a production process that turns the plastic into polyester yarn that is used to make the hundreds of thousands of blankets, scarves, socks and hats that Tzu Chi has handed out in disaster-struck areas.
"We were the first company in Taiwan to use this technology, and we get to clean up the environment, lessen our dependence on petroleum and make our own blankets with this single process," says Larry Lee, who gave up a lucrative career in IT to run Da Ai. "Our energy savings from this method run at 66% and we can reduce our carbon footprint by about 30%."
A similar model is used by Tokyo-based Peace Winds Japan, which has worked in about 20 post-conflict and disaster-stricken countries since its establishment in 1996. "We run a coffee-growing programme in Timor-Leste. We set the farmers up and then buy from them at fairtrade prices," says chief operating officer Rika Yamamoto. "After we sell the coffee on the internet, we plug the profits back into expanding the programme."
Yamamoto, who says that Peace Winds has a volunteer to employee ratio of four to one, also places a premium on watching costs. "While our overheads are low, we still try and keep all of our sourcing local. Hire local. Buy local. That's our motto."
While economic growth plays a large role in allowing Asian NGOs to venture abroad, what Japan, Korea and Taiwan also have in common are stable democracies and high levels of education, technology use and access to information. It is easier to help your neighbour when you know what he needs and you have the means to do it.
Amy Bartlett, global co-ordinator for Open Forum for CSO Development, which works to build a consensus for effective aid distribution, hopes that the rise of providers from outside North America and Europe will plug some of the donor gaps left over from 2008's global financial crisis.
"Western aid givers are really hurting at the moment from a combination of the conservative political climate and an increased demand to fulfil sustainable development roles," she says. Bartlett's concerns over shrinking government donor sentiment have been echoed by many in aid circles, and runaway US debt and European austerity measures have done little to allay those fears.
But as Asia inches closer to assuming its role as the global economic engine, there are hopes that Asian philanthropy will more closely shadow the continent's democratic and economic gains.
After all, it wasn't too long ago that the 73-year-old Master Cheng Yen was relatively unknown outside of Taiwan. Now, to some, she's an almost iconic figure. But it wasn't her religious work that put her on Time magazine's 2011 list of the world's 100 most influential people, or prompted the UN to issue a stamp to mark Tzu Chi's 45th anniversary earlier this year.
The accolades are coming because she built Asia's largest NGO from scratch and is at the vanguard of a new charitable movement that reaps the benefits of Asia's economic success.