Tzu Chi distributes 310 tons of rice to tsunami survivors in Sri Lanka
Taiwan Buddhist Tzu Chi Foundation, April 15, 2005
Taipei, Taiwan -- Volunteers of the Taiwan Buddhist Tzu Chi Foundation distributed 310 tons of rice to some 8,000 tsunami-affected families in Hambantota, a resort city in southeastern Sri Lanka, on April 9 and 10, 2005, benefiting over 30,000 people.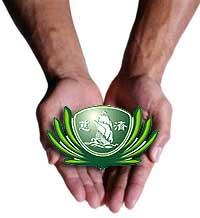 It was the ninth and the last large-scale distribution of relief supplies to victims of the Dec. 26, 2004 tsunami disaster in Hambantota and in several other neighboring towns by Tzu Chi since January 2005.
The locally-procured rice was stored at a local Buddhist temple before the distribution. Over 500 local volunteers, including about 100 boy's and girl's scouts, mobilized to help the two-day effort.
The distribution on the first day was handled by Tzu Chi volunteers, while the second distribution was entrusted to 14 staff members of Leader Day, a Colombo trading firm, as a way to allow the local volunteers to gain more experience.
Among Tzu Chi's aims in extending assistance is to spread the seeds of love through the training of local volunteers. The fact that hundreds of local volunteers have turned out to join the relief effort indicates that the seeds of love have begun to sprout there.
In order to continue providing care for the survivors, Tzu Chi, a humanitarian organization founded by Dharma Master Cheng Yen in 1966, established a liaison office in Hambantota in March 2005. Several local volunteers have been employed as staff members to help conduct house calls to the survivors who require continuous care.
Three days after the devastating tsunami struck Sri Lanka, Tzu Chi dispatched its first medical and relief team to Sri Lanka from Taiwan on Dec. 29, 2004. They started providing free medical care to the victims at a medical post in Hambantota on Dec. 31.
By early February, a total of 27,027 patients had received treatment from six Tzu Chi medical teams composed of doctors and nurses of the Tzu Chi International Medical Association (TIMA) in Taiwan, Singapore, Malaysia, the United States and Canada.
Tzu Chi's other emergency and mid-term relief efforts in Sri Lanka included providing relief essentials (such as rice, sugar, cooking oil and milk powder) and building 296 house-style tents at two locations. Each tent hut (3.6m x 4.8m x 2.5m) was designed to shelter five to six persons.
The long-term relief project in Hambantota by Tzu Chi is to build a community with 1,000 permanent houses on 240 acres of land allocated by the Sri Lankan government.
Architects have completed the basic design for the model house, which will have 625 square feet in floor space with two to three bedrooms. Tzu Chi will also build some public facilities in the community, including a school, a community center, a medical center, and a day-care center for children.