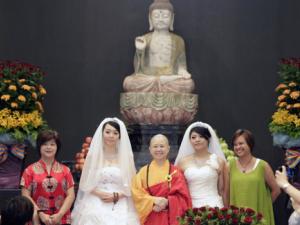 << You Ya-ting (2nd L) and Huang Mei-yu (2nd R) take a photograph with their friends and the Buddhist host Shih Chao-hwei (C) after casting their stamps during their symbolic same-sex Buddhist wedding ceremony at a temple in Taoyuan county, northern Taiwan.
Fish Huang and her partner You Ya-ting, both wearing traditional white bridal gowns, said I do in front of a Buddha statue and exchanged prayer beads rather than rings in a monastery in Taoyuan, in northern Taiwan.
Nearly 300 Buddhists chanted sutras to seek blessings for the couple, both aged 30.
Shih Chao-hui, a female Buddhist master who presided over the ritual, hailed it as a historic moment.
We are witnessing history. The two women are willing to stand out and fight for their fate... to overcome social discrimination,said Shih, a well-known advocate for social justice.
Some people might find it astounding (a woman performing the ceremony) but Buddhism does not engage in ideological struggles and I am used to strange looks from my own experience in the social movement, she said.
The couple's parents were notably absent from the ceremony, in an indication of the pressure facing some homosexuals and their families.
Our parents initially agreed to attend and they regret that they couldn't be here. We understand that people have different acceptance of media exposure and we want to give them more space, Huang said shortly before the wedding.
We hope with the master's support, the wedding will change many people's perspective even though it is not legally binding, said the social worker. We hope the government can legalise same-sex marriage soon.
Taiwan is one of the most culturally liberal societies in East Asia, and gay and lesbian groups have been urging the government for years to make same-sex unions legal.
Aiming to create awareness about the issue, about 80 lesbian couples tied the knot last year in Taiwan's biggest same-sex wedding party, attracting about 1,000 friends, relatives and curious onlookers.
Taiwan's cabinet in 2003 drafted a controversial bill to legalise same-sex marriage and allow homosexual couples to adopt children.
However, President Ma Ying-jeou has said public consensus was needed before the government can move ahead with the law.
Gay rights groups drafted a new bill earlier this year and urged Ma to push for its legislation before his term ends in 2016.