Taiwanese vegetable seller is a philanthropist
By Jocelyn R. Uy, Philippine Daily Inquirer/Asia News Network, Sep 3, 2012
Taipei, Taiwan -- Every day for the past four decades, 60-year-old Chen Shu-Jiu wakes up at 2:30 a.m. to set up her stall at the busy central market in Taitung, a county in eastern Taiwan. With her fresh merchandise-about a hundred varieties of vegetables-towering over her, she works until dark.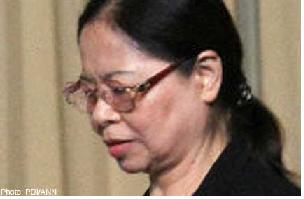 << Ramon Magsaysay awardee Chen Shu-Jiu of Taiwan.
After a backbreaking day at the market, Chen returns to her modest home and listens to Buddhist teachings on the radio before getting some shuteye.
By living a Spartan lifestyle, Chen has been able through the years to give away some NT$7 million (S$399,154) out of her modest earnings to various charities engaged in early childhood care and children's education.
Chen's tremendous generosity has been celebrated internationally. She has been acclaimed as an inspiration and a role model, travelled to many places, walked the red carpet and met VIPs, like Taiwan President Ma Ying-jeou and former Alaska Gov. Sarah Palin.
'Just a vegetable seller'
On Friday, Chen accepted the Ramon Magsaysay Award, conferred on people who address issues of human development in Asia with courage and creativity and make contributions that have transformed their societies for the better.
Chen and the five other laureates for 2012 received their awards in ceremonies at the Philippine International Convention Center in Pasay City.
But the unassuming Chen remains indifferent to the accolades she has received for her philanthropy since she was first featured in a local paper two years ago, maintaining that she's just an ordinary vegetable seller.
As much as possible, she doesn't want to be away too long from her market stall, which she took over after her father died some 20 years ago.
"I don't feel like I'm a hero or a great person whatsoever because I don't feel like I've done much. I just feel like I'm still that vegetable vendor at the market," Chen said, speaking through a translator.
Pure altruism
But to others, especially those who have been touched by her unselfishness, she has done great things worthy of emulation and praise.
In electing Chen to receive this year's prize, the Ramon Magsaysay Foundation said it "recognises the pure altruism of her giving, which reflects a deep, consistent, quiet compassion, and has transformed the lives of the numerous Taiwanese she has unselfishly helped."
Over the past two decades, she has donated almost all her personal earnings to a Buddhist monastery, Fo Guang Shan, to enable it to finance a school, and to an orphanage, Kids Alive International, a Christian mission devoted to the rescue of orphans and vulnerable children, to provide them with food and education and see to their spiritual and emotional needs.
Through her donations to her alma mater, Ren-Ai Elementary School, she has also helped finance the establishment of a fully equipped library.