Buddhist charity promotes Ghost Month as joyful
CNA, Aug 16, 2013
Taipei, Taiwan -- While "Ghost Month" has traditionally been linked to danger and misfortune, a Buddhist charity group has been trying to change that perception by promoting the period as a joyous and auspicious time.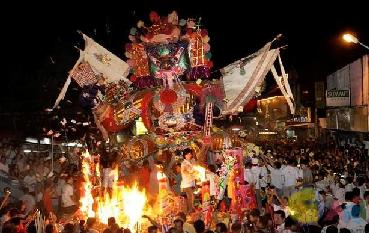 << Chinese across Asia marks the "ghost month" from Aug 7 to Sept 4, 2013

The Buddhist Compassion Relief Tzu Chi Foundation said it plans to hold more than 900 prayer meetings at home and abroad from now till the end of the month to "communicate positive thoughts" and dispel the myths associated with Ghost Month.
At 12 of the prayer meetings, Taiwanese opera companies will act out Buddhist tales to convey positive messages to the public, said the foundation, which has been holding such gatherings for many years.
Ghost Month, observed during the seventh month on the lunar calendar, is this year marked from Aug. 7 to Sept. 4.
People usually avoid activities such as swimming, traveling, whistling or going out after dark during Ghost Month, as it is believed that spirits are on the lookout for souls to capture.
However, the Buddhist group believes that the seventh month on the lunar calendar is in fact a joyful time.
The 15th day of that month marked the end of an annual summer retreat for Buddha's disciples when he was alive, the charity said.
On the retreat, the disciples would meditate and lead a conscientious life, Tzu Chi said, urging the public to do away with the negative thoughts associated with the month.
Last year, the foundation organized about 4,000 activities around the world to celebrate Ghost Month, attracting the participation of more than 280,000 people in dozens of countries.