Student Ventures to Taiwan for Buddhist Retreat
by Evangelia Stefanakos, Holy Cross, June 6, 2014
Taipei, Taiwan -- Keiving Wong, a member of the College of the Holy Cross class of 2017, will travel to southern Taiwan this summer to participate in a Fo Guang Buddhist Monastic Retreat as one of roughly 50 college students accepted into the program world-wide.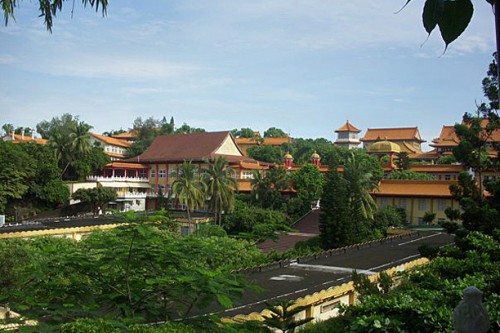 "The program is a great opportunity for college students to actually live in a monastery and experience the life of authentic Chinese Buddhists," explains Wong, whose interest was sparked in her Buddhism class this year taught by Todd Lewis, professor of religious studies at the College.
The Fo Guang Retreat was established by Venerable Dr. Yifa, a renowned Buddhist nun and scholar, who gave a lecture at the College in 2011. According to Lewis, the program was created "to foster inter-religious understanding, promote each individual's spiritual development, and to create a community of international students who share the common goal of being agents for peace and compassion in the world."
The first two weeks of the 28 day program will be catered towards orienting students to monastic life through morning meditations, classes on Buddhism, and discussion sessions. Students will learn about the history of Buddhism, from early Indian Buddhism to modern Chinese Buddhism, as well as Buddhist thought and practice. The discussion will be led by experienced monastic staff who will aim to convey the complexities of Chinese Buddhism and its culture to their primarily Western audience.
Following this initial period, students will participate in an intensive ch'an meditation, a silent arduous meditation, for seven days where they will have the opportunity to put "theory to practice, to understand the mind as deep as one can go," according to the retreat website. This meditation is a key component to the process of spiritual development and one Wong notes as central in her draw towards Buddhism.
"The program attracts me because it is something different from my current lifestyle," says Wong. "All the exams, applications, essays and conflict of sorts have been burying me for so long that I do not have time for myself to slow down and think. Buddhism is well known for being calm and peaceful; in addition, we will also be experiencing an efficient, healthy, and structured lifestyle."
The student's experience will culminate with a large modern Buddhist youth conference with more than 1000 students from across the world, followed by three days of touring the island of Taiwan, absorbing local culture and staying at various temples along the way.
The retreat, which is free of cost, will give the students the opportunity to "concentrate, learn and experience a different life style with new friends," says Wong, who will be the third Holy Cross student to attend the program.