Buddhist master lashes out at Ko over his comments on Tzu Chi Foundation
By Abraham Gerber, Taipei Times, Feb 24, 2015
Taipei, Taiwan -- Taipei Mayor Ko Wen-je's comments about a project by the Buddhist Compassion Relief Tzu Chi Foundation on a disputed plot of land in Neihu District drew a heated response from Buddhist Master Shih Chao-hwei yesterday.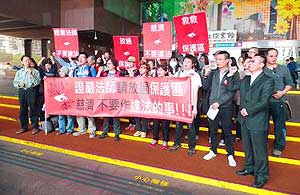 << Representatives of environmental groups protest against the Buddhist Compassion Relief Tzu Chi Foundation's plan to build a social welfare service center in an environmental conservation area in Neihu District, Taipei, on April 10 last year.
Photo: Kuo An-chia, Taipei Times
"I cannot help but severely criticize Ko," Shih said in a Facebook post, protesting what she called Ko's "humiliation" of the foundation.
"It is like biting the hand that feeds you," Shih said. "The mayor of Taipei has treated with hostility a noble organization that helps him care for the city's weak and disadvantaged."
She said Ko had not done his homework and carefully reviewed the foundation's plan before calling it a "development project," as if it were an urban renewal plan backed by a business group.
The site is to be used to manufacture blankets for use in disaster relief and would serve as a logistics center in the event of an emergency, she said.
In a recent interview with CK Potpourri, the Taipei Municipal Jianguo High School magazine, Ko said it was "strange" that the foundation had bought the land in an environmentally protected zone in Neihu for development.
The project has been mired in controversy for more than 10 years because of opposition from residents and environmental groups.
Tree Party policy director Pan Han-shen (???) said that environmental groups oppose the project because it would set a poor precedent, opening the door for large corporations or those with influence to expedite approval for use of land in environmentally protected zones.
He said the Tzu Chi Foundation had sought to have the project approved as an individual case, without considering the wider impact it would have and that it has refused to have the project undergo an environmental impact assessment.
In December last year, Ko said he was opposed to the project as a matter of principle, stating that there was no need for Taipei to take from the wilderness to make room for further population growth.
In response to Shih's remarks, Taipei City Government spokesman Sidney Lin (???) said Ko was only discussing the facts of a case that has attracted substantial public interest, and was not taking aim at any particular organization.
The city was extremely grateful for the foundation's assistance in dealing with the aftermath of last month's plane crash, Lin said.