Tzu Chi rebuilding five schools in quake-stricken Bam
ReliefWeb, Source: Taiwan Buddhist Tzu Chi Foundation, June 1, 2005
Taipei, Taiwan -- The Taiwan Buddhist Tzu Chi Foundation began rebuilding five schools in the ancient Iranian city of Bam in April 2005 for local children whose schools were demolished in a magnitude 6.7 earthquake on Dec. 26, 2003.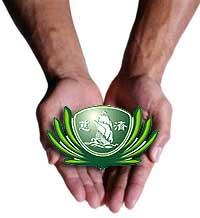 A joint ground-breaking ceremony was held at the Najmieh Girl's Junior High School on April 28, 2005 with the participation of school teachers, local government officials and a delegation of Tzu Chi representatives from Taiwan, the Philippines and Jordan.
Besides the Najmieh school, the four other schools being built by Tzu Chi are the Motahari, Fatamieh and Parvin Etesami girl's schools and a boy's school. In total, 43 classrooms will be rebuilt.
Under the project schedule, two schools will be completed in mid-September before the new semester starts on Sept. 21, while the three others will be completed by Dec. 25. Tzu Chi is also considering building a kindergarten in the Bam area.
Palafox Associates, a leading international urban planning and architectural firm in the Philippines, was appointed by Tzu Chi to take charge of the project.
Tzu Chi volunteers based in the Philippines had over the past year accompanied the architects in discussing the details of the project with officials in Iran and with Master Cheng Yen, founder of Tzu Chi, in Taiwan.
The founder and principal architect of the firm, Felino Jun Palafox, described the project as "one of the most challenging assignments" in his life because he, a Catholic, was asked by a Buddhist organization, Tzu Chi, to rebuild schools for Muslim children.
Jun Palafox said in an interview with a Philippine magazine that he feels "honored and privileged to take part in this charitable endeavor for reconstructing what once was a great and historically rich city in the Middle East and for participating in this surprising demonstration of Buddhist, Muslim and Catholic cooperation."
The December 2003 temblor claimed more than 45,000 lives in the Bam area. Over 30,000 people were injured. A total of 114 schools with 758 classrooms required reconstruction.
Soon after the disaster, Tzu Chi dispatched medical and relief teams to provide emergency aid to the victims. In the first three months, Tzu Chi's aid included free clinical services (treating about 600 people), 300 family medical kits, 3,000 blankets, 1,200 sanitary packs, 2,500 tons of rice (three-month supply for about 80,000 survivors).
Tzu Chi, a humanitarian organization founded in Taiwan in 1966, maintains chapters in over 30 countries. Its volunteers often take prompt actions to deliver practical aid to those most in need of help personally and with a respectful manner.