Open Letter from Master Cheng Yen to Hurricane Katrina Victims
The Buddhist Channel, Sept 7, 2005
Our Dear American Friends,
On behalf of the Taiwan Buddhist Tzu Chi Foundation and our volunteers around the world, I wish to convey our deepest condolences. Even though we are in Taiwan, seemingly far away, we deeply empathize with you. Having suffered our share of disasters also, we know how heartrending it is to lose everything. What you have been through and are going through now breaks our hearts. We share your pain and sorrow.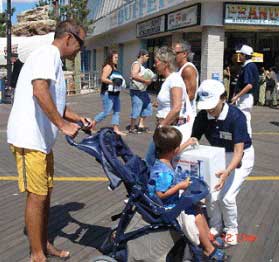 << A Tzu-Chi volunteer fund raising in the streets of Atlantic City, USA
At this critical time, Tzu Chi volunteers all over the world wish to offer our help. Even as you read this, our volunteers in cities from Atlantic City to Paris to Buenos Aires to Jakarta, Indonesia are fundraising - standing on street corners and outside stores, and going door to door to solicit donations.
Besides helping you to meet needs, we hope the aid that we give can also be a source of comfort and support to you-knowing that it contains the love and good wishes of people around the world. These supplies will one day be used up, but we hope the love they hold in them will always stay with you.
Today, our volunteers are there in person to represent the love and well-wishes from people around the globe. Living on this planet, we are all connected to one another. So, let us always be a support to one another, and be a source of love and peace through our thoughts, our words, and our actions. And not only to one another, but to our scarred planet as well---this planet that gives us life.
We sincerely pray that your hearts may soon find peace and comfort, and that you will overcome this disaster and rebuild your lives. Know that we will remain by your side for as long as it takes.
May your future days be filled with peace.
-----------------------
Ven. Cheng Yen is the Founder of Taiwan Buddhist Tzu Chi Foundation