Tzu Chi provides relief aid to over 9,000 hurricane victims
Taiwan Buddhist Tzu Chi Foundation, Sept 13, 2005
Taipei, Taiwan -- The Taiwan Buddhist Tzu Chi Foundation continued to provide emergency relief assistance to evacuees of Hurricane Katrina, and as of Sept. 11, Tzu Chi has given US$701,200 to 3,838 households, benefiting 9,183 hurricane victims.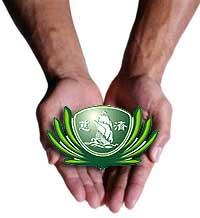 Tzu Chi began handing out shopping cards or checks to the evacuees on Sept. 4. All evacuees can get the emergency aid from Tzu Chi when they check out of the temporary evacuation centers. In general, each household is given US$200.
The evacuees who have received Tzu Chi relief assistance included 2,078 households in Beaumont, 213 households at Overseas Chinese Educational and Cultural Center in Houston, 209 households at George Brown Convention Center, 76 households at Astrodome, 1,151 households at Dallas Convention Center, 100 households in Kansas, six in New York City, two in New York State, and one in northern California.
Tzu Chi has committed US$4 million for emergency relief efforts. Tzu Chi members across the world have responded the call of Dharma Master Cheng Yen, founder of Tzu Chi, to raise funds to support on-going and subsequent relief plans.
The 68-year-old nun urges everyone to "treat everyone in the world as our family and embrace their suffering as our own."
Tzu Chi members in the following 24 countries have organized activities to appeal for donations: the United States, Canada, Australia, New Zealand, Argentina, Dutch Maarten, Paraguay, Guatemala, the Dominican Republic, Brazil, Malaysia, Indonesia, Brunei, Sri Lanka, the Philippines, Thailand, Jordan, mainland China, Hong Kong, Japan, France, Austria, England, South Africa, and Taiwan.
Tzu Chi USA has set up a relief coordination center in Houston. Hundreds of volunteers have been mobilized to care for the evacuees in many cities of the United States. Some Tzu Chi members from Canada and Taiwan have also arrived in Houston to help with the relief efforts.
As over 200 evacuees are staying at Veterans Memorial Coliseum in Phoenix, a Tzu Chi volunteer flew to that city from Houston on Sept. 11 to arrange the distribution of emergency relief checks to the evacuees.
A mobile dental vehicle, equipped with two dental stations and owned by the Los Angeles-based Buddhist Tzu Chi Free Clinic, is now stationed in Beaumont, Texas, to provide free dental treatment for the evacuees. Besides the dentists from the Tzu Chi International Medical Association, a local American dentist volunteered to join Tzu Chi in treating the patients.
Tzu Chi will also distribute medical kits to the evacuees. Over 10,000 kits have been transported by Taiwan's China Airlines to the United States from Taipei free of charge. Once the kits are readied, they will be given to the evacuees who need them.
Tzu Chi is a humanitarian organization that is known for its commitment to assist disaster victims from the beginning to the last. For instance, it is still engaged in building six schools in Bam, Iran, felled by the Dec. 26, 2003 earthquake, and building thousands of houses for survivors of the Dec. 26, 2004 tsunamis in Sri Lanka and Indonesia.
The CEO of Tzu Chi USA, Austin Tsao, expressed Tzu Chi's intention of giving mid-term and long-term aid to affected New Orleans residents when he talked with the governor of Louisiana at the Astrodome on Sept. 11.