Dharma Drum Mountain opens World Center for Buddhist Education
By To Lee, The China Post, Oct 21, 2005
Taipei, Taiwan -- After 16 years of resource gathering and construction, the Dharma Drum Mountain (DDM) World Center for Buddhist Education in Taipei County will be inaugurated today.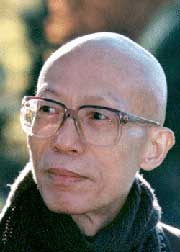 << Master Sheng Yen, founder of Dharma Drum Mountain
Considered an important event in the realm of religion, the opening ceremony of the education center would be attended by President Chen Shui-bian, KMT Chairman Ma Ying-jeou and four religious leaders from abroad.
Master Sheng Yen, recently hospitalized for health problems, would be present at the ceremony. Master Sheng Yen founded DDM in 1989 and dedicated himself in the promotion and spread of authentic Buddhist teachings.
For the past years, Master Sheng Yen has taught the Dharma throughout Asia, Europe and North America. Because of his tolerance to other religions, Master Sheng Yen has been invited to numerous international religious conferences and meetings, including the Eleventh International Religious Leaders Peace Conference in 1997.
Referred to as a living gem in the Buddhist world, Master Sheng Yen is also credited with the renaissance of Chinese Buddhism both locally and internationally.
The establishment of the education center reflects DDM's wish to advance the religion through academic teaching, public outreach, and caring services. According to the organization, "DDM also offers various programs to meet the spiritual and educational needs of people at all stages of their lives. Some of these programs include international Buddhist conferences, ecological seminars and lectures, social welfare programs and meditation retreats."
The inauguration ceremony would center upon four themes -- silence, scripture reading, cleansing and statue revealing. During the proceeding, all of the participants would be required to refrain from conversation in order to demonstrate their deference for the sacred event. Recitation of scriptures would be followed by cleansing of the grounds and the revealing of the six statues at the center.
The Buddhist educational complex would encompass functions such as academic research, meditation practice and education. There is also an international conference hall for welcoming foreign religious leaders.
In the future, the educational center would host a series of activities that would feature family fun and spiritual teachings. Through various simple and practical meditation processes and exhibitions, DDM hopes the public would gain a better understanding and appreciation of the religion.