Tzu Chi sends relief team to help Pakistani quake victims
Taiwan Buddhist Tzu Chi Foundation, Oct 19, 2005
Taipei, Taiwan -- A 15-member relief team organized by the Taiwan Buddhist Tzu Chi Foundation arrived in Islamabad, capital of Pakistan, on Oct. 19 to join relief operations for the victims of the devastating earthquake that struck the northern regions of Pakistan on Oct. 8.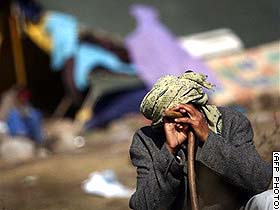 The mission consists of Tzu Chi volunteers, medical personnel and journalists from Taiwan, Jordan, Turkey, Malaysia, and Indonesia. A Taipei-based Pakistani trader went with the mission to serve as an interpreter.
Members of the mission, who brought 700 kg of relief materials and medicines with them, were to proceed to Muzaffarabad, capital of Pakistani-controlled Kashmir, to assess the situation and provide emergency medical care if necessary.
Tzu Chi founder Dharma Master Cheng Yen was very concerned about the suffering of the quake victims. Owing to related factors, Tzu Chi could not go to the disaster areas immediately after the quake, but it is considering to work out mid- and long-term relief plans based on survey results from the Tzu Chi team.
Preparations for sending relief materials to Pakistan have been under way in Taiwan. So far, Tzu Chi has prepared 7,000 blankets and, following research over the preferred diet of the region, has prepared 220,000 ready-to-eat vegetarian meal packages for immediate transportation to the disaster areas by air once the Tzu Chi assessment team reaches there to specify the need.
According to wire reports, the casualties from the quake in Pakistan were 42,000 dead and 67,000 injured. More than 3 million are homeless. It is estimated that around 20 percent of the affected areas have not yet been reached.
To support Tzu Chi's relief efforts for Pakistani quake victims, Tzu Chi members in Vancouver, Canada, raised funds between Oct. 14-16 by selling over 1,000 pounds of pears donated by a local Tzu Chi donating member, as well as soliciting donations from shoppers.