Taiwan Buddhist group builds houses in tsunami-hit nations
The Jakarta Post, Dec 24, 2005
TAIPEI, Taiwan -- A Taiwan Buddhist group has built more than 4,000 houses for tsunami survivors in Indonesia and Sri Lanka, the group said on Saturday.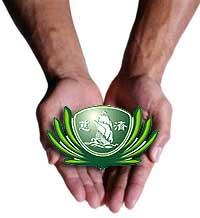 The Buddhist Tzu Chi Foundation has built a Big Love Village for 3,700 families and five schools in Banda Aceh, Aceh and another Big Love Village for 649 families and a middle school in Hambantoba, Sri Lanka.
Banda Aceh and Hambantoba are Indonesia and Sri Lanka's worst-hit areas in the Dec. 26, 2004 tsunami which has killed more than 230,000 people in 12 countries.
"Tsunami survivors in Banda Aceh will move into the Big Love Village, which is a housing complex, next Monday. The houses have furniture in them. Indonesian President Susilo Bambang Yudhoyono will visit the Big Love Village next Tuesday," the news release said.
The Big Love Village in Hambantoba will be ready for use in the next few months.
After the tsunami, the Tzu Chi Foundation rushed relief material and medical teams to the disaster areas. It also drew up mid-term and long-term plans to help these areas rebuild.
The foundation's aid also included 7,000 tons of rice and 3,700 tents for Indonesia, 1,196 tons of rice, 296 tents for Sri Lanka and 2,500 body bags and 21 fishing boats for Thailand.
The Tzu Chi Foundation was founded by Master Cheng Yen, 68, nicknamed Taiwan's Mother Teresa, in 1966 and has tens of thousands of members in 28 countries.
It has provided cash and relief materials to flood, earthquake and hurricane-stricken countries all over the world and built Big Love Villages for poor people in China, Iran, Turkey, India, Thailand, South Africa, El Salvador and Paraguay.