Modern image for Zen Buddhism
Stuff.co.nz, March 29, 2006
Taipei, Taiwan -- Tour-guide monks, security monks, executive monks and mechanic monks are all part of the daily business at Taiwan's new space age monastery. A high-ranking monk takes Sophie Neville on a guided tour.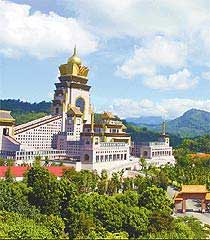 << ZEN WORK: Chung tai Chan monastery in central Taiwan is the largest modern Zen Buddhist monastery in the world and took seven years to complete.
The Chung Tai Chan Monastery alights on the landscape of rural Taiwan like a spaceship. A huge gold dome seems to hover in the sky, atop an enormous grey edifice building that looks more modern architectural marvel than monastery.
But this brand new, opulent 37-storied building is home to more than 1000 Buddhist monks and nuns, as well as a couple of hundred lay-people.
The monks and nuns spend their days chanting, meditating, praying and attending to business – spreading the word of Zen Buddhism throughout the world.
Found in central Taiwan at Puli, in the Nantou region, this is the biggest modern Zen monastery in the world. At 200m long and 150m high, my tour-monk informed me (in perfect English, thanks to years of study abroad) that it is a similar size to St Peters in the Vatican.
It was designed by C Lee, the architect made famous by Taipei 101, the world's tallest building which towers over Taiwan's capital city.
Mr Lee also happens to be a follower of the Chung Tai Chan grand master, and the two worked together to give Zen Buddhism a 'modern image'. The modern image took seven years to create, at a cost of $110 million – reportedly all donated by dedicated followers.
The monastery functions like a mini-society, with a boarding school for Buddhist children who come from all over Taiwan and further afield, tailors (to make the robes), a garage manned by mechanic-monks (to fix the vehicles), carpenters, an organic farm and almost everything else needed by those who live there.
Visitors are welcomed, but quaint ideas of Buddhist minimalism and immaterialism need to be put aside. We are going forward, not back in time.
The building was constructed from granite imported from India, France, Brazil, Egypt and Texas, and was designed to withstand typhoons and earthquakes. It is imposing, to say the least. A team of security-monks patrol the massive grounds dressed in black robes with earpieces and shaved heads.
As you walk through the huge wooden gates into the building, a gold Buddha, made of real gold, and flanked by two smaller Buddha statues loom over you. Meditation hall after meditation hall stretch out and rooms made of perfectly white Italian marble display white Buddha statues under bright pink lighting.
A frighteningly fast glass elevator whizzes you to each new level faster than should be possible.
One of the most incredible sights is a hand-painted ceiling, reminiscent of the Sistine Chapel. It was created by 20 artists who had to lie on their backs atop scaffolding for months and the result is breathtakingly beautiful.
Another room boasts a ceiling that is lit by little lights mirroring the real night sky.
The walls of the 16th floor are made up of more than 20,000 miniature Buddhas with windows imported from Germany that look out over the landscape. On the next floor up, a wooden pagoda made without nails towers up through several floors. It is quite unbelievable.
The building is eerily quiet considering how many people live there. The further up you go, the more peaceful the atmosphere becomes.
But the top floor is where the really spiritual (or perhaps I'd been converted by this stage) experience happens. I was directed to stand in a circle of light and to say anything I liked.
As the words "I am Sophie" came out of my mouth a ghostly echo reverberated around the room.
Very strange, to say the least, but a fitting end to a fascinating tour.
----------------------------------------
Chung Tai Chan Monastery is open year round and visitors have access to the first two floors. If you phone ahead, a tour of the whole monastery can be arranged.Phone +88 6 49 2930 215 or email ctworld@mail.ctcm.org.tw