Taiwanese Buddhist Master Hsing Yun meets with pope
Taiwan News, June 23, 2006
Taipei, Taiwan -- Pope Benedict XVI met with visiting Master Hsing Yun, founder of the Buddha's Light International Association in Taiwan, Wednesday in a general audience at St. Peter's Basilica in Vatican. During the meeting, Benedict XVI expressed his best regards for the Taiwanese people and said he will pray for them. The pope also expressed the hope of meeting the Taiwanese people if the chance arises.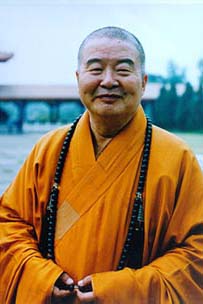 << Dharma Master Hsing Yun
Hsing Yun arrived in Rome on Tuesday. In the company of Ambassador Tou Chou-sheng of the Republic of China, the Buddhist master extended his respects to the pope on behalf of all Taiwanese Buddhists and invited the leader of the Roman Catholic world to visit Taiwan any time he felt like it.
Calling himself a pilgrim during his Rome trip, Hsing Yun said he hopes the journey will act to help boost mutual understanding and cooperation between Buddhists and Catholics.
Hsing Yun founded the Fo Guang Shan Buddhist Monastery in 1967 in southern Taiwan, which has since then evolved to become the largest Buddhist monastery in Taiwan.
Now, Fo Guang Shan has more than 200 branch temples throughout the world with the express aim of promoting humanistic Buddhism.
After his meeting with Benedict XVI, Hsing Yun called on Paul Cardinal Poupard, president of the Pontifical Council for Culture of the Holy See, for talks on issues of mutual concern.
Hsing Yun, heading a group of his followers, is currently on a tour of Fo Guang Shan branches in Europe. He is scheduled to leave for Geneva Wednesday evening to attend an inauguration ceremony for a new Fo Guang Shan branch temple in the Swiss city.