Living as one big, happy family
by Foong Pek Yee, The Star, June 25, 2006
Love knows no boundary, and in Taiwan's Fo Guang Shan Orphanage, FOONG PEK YEE finds orphans from countries all over the world growing up together as a harmonious family.
Kaohshiung, Taiwan -- SHOW Bi Laing is single but a proud mother of 624 children of various nationalities, including Portuguese, Indians, South Africans and Taiwanese. The children are orphans at the Fo Quang Shan Buddhist Temple Orphanage in Kaohshiung, Taiwan, which she has been in charge of for more than 25 years.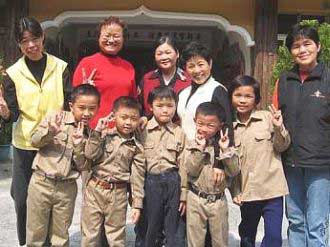 << FACES OF JOY: Show (fourth from left) with some of the children and volunteers at the Fo Quang Shan orphanage.
Currently, she has 55 of them, aged between five and 23, under her care. A stroke a year ago has neither slowed her down nor dampened her spirit.
Nevertheless, Show, 52, who gave herself a clean bill of health, admitted that she is now making a conscious effort to exercise.
"I have faith that everything will be fine," she said.
It was faith that kept her going from the day she left her Taipei home for the orphanage 27 years ago despite her mother's protests. Mother and daughter did not see each other for 10 years after that.
"My mother refused to see me," said Show, a staunch Buddhist who dons the black robe.
"Like most mothers, she wanted me to get married and have my own family. After all, I was only in my mid-twenties. My mother's world fell apart when I told her of my calling."
The fourth in her family, she was the only one among her four brothers and a sister to remain single.
"They are all married with children," Show said, adding that she used to tell her mother – when they finally reconciled – that she was the one to give her the highest number of grandchildren.
After they were reunited, Show's mother ended up at the orphanage to help her look after the children. She did this for 10 years before she retired due to old age. She is now 87.
While it takes almost 10 months to have a full-term baby, Show said she took about three months to get newcomers to adapt and blend into the family.
"Some of my children are top scorers and some not," she said, stressing that all of them were precious to her.
"There are times when I get invited to their schools and colleges to share their joy and achievements.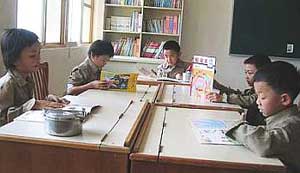 INSTILLING INDEPENDENCE: >>
The children at Fo Quang Shan are very disciplined, and learn to look after themselves from a very young age. — Pictures by FOONG PEK YEE
"The same goes if the school authorities need to talk to me to find solutions, meaning when the children run into problems," said the petite Show who has a commanding voice and photographic memory of her children.
A mother to them in every sense, she even feels the agony when they fall ill, she said. Fo Quang Shan pays for the children's living expenses and schooling.
To finance their education at tertiary level, the children help in the orphanage or take part in Fo Quang Shan's fundraising events so that they can pay half of the tuition fees, Show said.
"We want them to learn to be independent and to be proud of it," said Show, adding that the children also take part in raising funds for pocket money and to take part in activities like holidaying locally or abroad.
Among the countries they have visited are Malaysia, Singapore, the Philippines and Australia.
It was during their trip to Kuala Lumpur on July 8 last year that Show suffered the stroke.
"We were in the bus when I suddenly found that I couldn't see the children from the corner of my eyes," she recalled.
A visit to the dormitories showed that the children are very disciplined and keep their living spaces tidy. There are 10 children per dormitory.
The rooms of the smaller kids have toys like Barbie dolls, teddy bears and robots while those of the teenagers were mainly decorated with pinups of popular artistes like S.H.E. (singers) and Taiwanese pop idol, Ah Mei.
The children are also encouraged to take up other pursuits such as music and martial arts, and Show is their violin teacher.
They are taught to take care of themselves from young, and they start washing their own socks at the age of five.
By the age of eight, they will be doing their own laundry and they start to learn to cook at the age of 12, with the first lesson being how to cut fruits.
Show who was a primary school teacher before she joined the orphanage is obviously proud of her brood.
"There are parents, including some from Singapore, who send their children for holidays at the orphanage to experience the way of life here," she said.
Perhaps what makes this big family stand apart is the way its members from different corners of the world have managed to come together as a harmonious one.