Desmond Tutu calls for Christians to emulate Buddhist Tzu Chi
China Post, April 23, 2007
KAOHSIUNG, Taiwan -- Former South African Anglican Church Archbishop Desmond Mpilo Tutu visited the operational headquarters of the Buddhist Tzu Chi Compassionate Relief Foundation in the southern port city of Kaohsiung Sunday, coming away with a tremendous appreciation of the contributions that Tzu Chi has made to the world.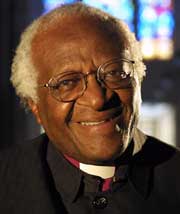 << Nobel Peace Prize winner Desmond Tutu
Tutu, the 1984 Nobel Peace Prize winner recognized for his contribution to ending apartheid in South Africa and facilitating reconciliation, and his wife were profoundly impressed with audio-video records and verbal accounts of relief work carried out by Tzu Chi volunteers around the world over the past two decades, in an effort to save lives and comfort people afflicted by natural disasters.
Tutu said the devotion of Tzu Chi volunteers exemplifies the compassion of Buddhism and unselfish service to mankind.
Tutu's wife was reduced to tears when she saw how Zulu volunteers had reacted to the support services extended to AIDS patients in South Africa under the leadership of Tzu Chi volunteer Pan Ming-shui.
Overwhelmingly moved, Tutu said that South Africa is a Christian country but that Christians there have been relatively more arrogant than Buddhists. He called on Christians to be humble enough to learn from and emulate what the Buddhists have done.
Tutu and his wife arrived in Taiwan April 18 for an eight-day visit at the invitation of the Taiwan Foundation for Democracy.
The couple have visited Machangting, a former execution ground for political prisoners adjacent to the present day Youth Park in western Taipei, and the 2-28 Peace Memorial Park in downtown Taipei, as well as meeting with Vice President Annette Lu, who was imprisoned for nearly six years for her pro democracy activities during Taiwan's martial law era.
Tutu will deliver a speech April 24 on South Africa's experiences in seeking transitional justice and ethnic reconciliation following the end of apartheid. As head of South Africa's Truth and Reconciliation Commission, Tutu has played a leading role in his country's post-apartheid campaign to heal its historical wounds and boost ethnic harmony.