Tibetans in Taiwan pray for Victims of China and Myanmar Tragedy
TibetNet, May 22, 2008
Dharamshala, India -- Drigung Kyabgon Chetsang Rinpoche presided over a special prayer congregation in remembrance of people killed in the recent natural catastrophe in Myanmar and China, in Taipei, the capital of Taiwan, on 19 May.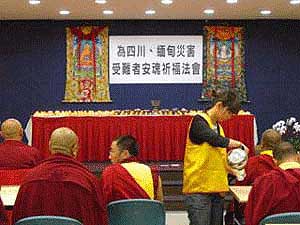 << Office of Tibet in Taiwan organises a prayer session in remembrance of all those people killed in the recent twin natural disasters - cyclone Nargis in Myanmar and earthquake in China
Scores of Tibetans, including seventy monks from all schools of Tibetans Buddhism and seventy lay people attended the prayer session.
As a token of solidarity, a total amount of 30, 850 Taiwan Yuan has been offered as voluntary donations by Tibetans to help in the relief efforts.
Cylcone Nargis swept Irrawady Delta region in Myanmar on 3 May and a powerful 7.8 magnitude earthquake struck Sichaun province in China on 12 May, both of which have caused huge loss of lives and properties.
The Kashag (executive) of the Central Tibetan Administration has appealed to Tibetans living in the free world, to initiate solidarity actions by organising prayer meetings and raising donations.
His Holiness the Dalai Lama has encouraged Tibetans to explore the possibilities of establishing Sino-Tibetan Friendship Associations through such programmes.
The Kashag told individual Tibetans to "write a letter, or send a message to show solidarity with the earthquake victims".
Tibetans across the world have been requested to "halt staging demonstrations in front of the Chinese embassies in the respective host countries until the end of May".