Dalai Lama says he hopes to visit Taiwan next year
DPA AND AFP, Nov 30, 2008
"The Tibet issue is related to China's sovereignty and territorial integrity and touches on China's core interests." — Qin Gang, Chinese Foreign Ministry spokesman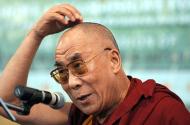 TAIPEI AND BEIJING -- Tibet's exiled spiritual leader, the Dalai Lama, said on Friday he hopes to visit Taiwan next year, in what would be his first visit in seven years and an apparent reversal of a policy of avoiding the nation for fear of angering China.
"Taiwan-China ties are developing smoothly, so maybe this is a good time," the Dalai Lama told Elta TV in the northern Indian city of Dharamsala. "I haven't visited Taiwan for several years, but I have never forgotten Taiwan."
The Dalai Lama praised Taiwan's democracy in the televised interview.
"What is most precious about Taiwan is Taiwan's democracy. China kept talking about liberating Taiwan, but in fact, it is not unlikely that Taiwan might liberate China's dictatorship with Taiwan's democracy," he said.
The Dalai Lama refused to predict the outcome of the Taipei- Beijing talks, but said that given the current situation in China, it was very hard to achieve concrete results.
"Look at Tibet. China keeps saying that the door to dialogue is always open, but when we want to discuss details, they become very hard," he said.
The Dalai Lama fled Tibet in 1959 after a failed uprising against Chinese control. China accuses him of being a separatist, though he insists he favors greater Tibetan autonomy, not independence.
The Dalai Lama visited Taiwan in 1997 and 2001 to give Buddhist lectures and meet then president Lee Teng-hui. His representative office — the Tibet Foundation of His Holiness the Dalai Lama — opened in Taipei in 1998.
Meanwhile, China said on Friday it was forced to react over a planned meeting between French President Nicolas Sarkozy and the Dalai Lama, after postponing a summit with the EU.
"China firmly opposes any contacts with the Dalai Lama by foreign leaders in whatever form," Qin Gang said in a statement quoted by the state-run Xinhua news agency, repeating China's stance.
China on Wednesday scrapped the summit scheduled for next week in France, which Chinese Premier Wen Jiabao had been due to attend.
It directed its anger particularly at France because it holds the EU's rotating presidency and because Sarkozy has insisted he will meet the Tibetan spiritual leader in Poland on Dec. 6.
The Dalai Lama is also due to visit the Czech Republic and Belgium, where he is scheduled to address the European Parliament in Brussels on Thursday.
France had brushed aside China's stance and bilateral relations, Xinhua quoted Qin as saying.
"The Tibet issue is related to China's sovereignty and territorial integrity and touches on China's core interests," he said, adding that France had not responded adequately to China's efforts to maintain good relations with it and the EU.
"Therefore, the summit cannot be held in a sound atmosphere, nor can it achieve expected goals. Under such circumstances, China has no choice but to postpone the summit," he was quoted as saying.
"The current situation is not caused by China, nor should China be held responsible," Qin said.
"We hope that France could proceed with an overall perspective, fulfil its commitments, and properly deal with China's major concerns in earnest so as to create conditions for the steady development of bilateral relations," he said.