The Tzu Chi Foundation – the world's largest Buddhist charity
By John Oates, The Register, November 30, 2008
Monks, cadavers, typhoons and earthquakes
Taipei, Taiwan -- Taiwan might be best known as the home of the major DRAM manufacturers and other computer component makers but it is also home to the world's largest Buddhist charitable foundation.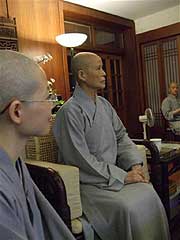 << Dharma Master Cheng Yen
The Tzu Chi Foundation was founded in 1966 by a 30 year-old female monk called Dharma Master Cheng Yen. It runs international emergency relief operations, longer term aid programmes, as well as recycling centres, a TV and radio station and magazines within Taiwan.
It has very few paid staff, but thousands of volunteers give some, or all, of their time each week. They are expected to pay all their own expenses.
The Register went to Taiwan to see the Tzu Chi Foundation in action, courtesy of Stan Shih, a founder of Acer, a major supporter of the foundation. A big thank you to him, and to all the Tzu Chi volunteers who made our visit possible.
Starting with the support of 30 housewives contributing a few cents a day, the Tzu Chi Foundation now brings in millions of dollars in donations. It is the largest organisation which embodies "socially-engaged Buddhism". Several broadly similar organisations have emerged in Taiwan in recent years. They call for Buddhists to actively engage in improving society rather than just seeking personal, religious enlightenment.
It does this with next-to-no paid staff but with the help of around 100,000 full and part-time volunteers. Even the 170 female monks at the Tzu Chi monastery are expected to support themselves. They make crackers and other foodstuffs which are sold around the country. This means the Foundation, and monastery, have minimal overheads, which is one reason they attract support from so many Taiwanese business people.
Tzu Chi volunteers work all over the world – from providing free medical care to illegal immigrants in the US, distributing emergency supplies in New Orleans after Hurricane Katrina, to work in Afghanistan, Myanmar and mainland China. Its, and Taiwan's, unique international position mean it is often allowed into places where traditional Western NGOs would not be welcomed.
International relief is based on the principle of "direct giving" – Tzu Chi does not just chuck around sacks of rice but, where possible, prepares hot food for people in need. The foundation aims to maintain the dignity of victims of natural disasters in the way that food is distributed and also by getting the victims help in helping each other.
A senior figure in Tzu Chi's international volunteer programme, an ex-financial consultant at Merrill Lynch, told us the group tries to buy food and fertiliser locally for emergency relief operations - if it can do so without inflating prices. He said this was usually possible in areas where the UN's World Food Programme was not working.
If local buying begins to increase prices then supplies are brought in from Taiwan and elsewhere. Tzu Chi has successfully negotiated direct donations in some surprising countries like North Korea, Myanmar and Iran. After long talks North Korea allowed the group to distribute food in some areas. Myanmar also relented, for some areas, after six days of negotiating to allow Tzu Chi in to help people left hungry after Cyclone Nargis in May 2008. As well as emergency food aid the group provided fertiliser and seed to get fresh crops planted.
Tzu Chi always aims to provide long-term help not just a few days of food. They try to treat recipients with respect and dignity - haircuts and perms are organised alongside more practical help. There is, we were assured, no attempt at evangelising or pushing the Buddhist message except by example. After the Ban earthquake in Iran in 2003, after providing 2,500 tons of rice, blankets and medical care, the group built five schools for 2,000 pupils which were then handed back to the Iranian government.
Taiwan's largest recycler
The Foundation became interested in environmental protection in 1990 and now runs 4,500 recycling centres across Taiwan, all run by volunteers. We started our trip in Taiwan with a visit to a centre in Taipei run by Mrs Chow:
Apart from helping Taiwan reduce its need for landfill sites the centres aim to provide fulfilling work for the mostly elderly volunteers. This considered as true in the recycling centres as it is for Tzu Chi's international relief work – it is considered an honour to be able to give.
In 2007 Foundation centres recycled 95.7 million tons of paper, one million kilos of aluminium, 13 million kilos of iron and 7.1 million kilos of plastic bottles.
Some of the plastic bottles are made into blankets and shirts, using volunteered time, expertise and equipment from local textile firms. Whether this was really an environmentally positive process bearing in mind the amount of energy presumably required was not entirely clear. The blankets are distributed as part of Tzu Chi's emergency relief efforts. The seven stage process was perfected by the Foundation with the help of several different textile companies.
The revolution will be televised
Da Ai Television station, and Rhythms Monthly magazine, is the main way the Foundation promotes its work and beliefs. The TV station, founded in 1995, costs $35m a year to run and some $10m of this comes from the recycling business. The rest comes from understated corporate sponsorship – direct promotion of products is not allowed, and from donations.
Its most popular show is The Sunshine of Life, a medical soap opera. It also broadcasts a fifteen minute daily message from Dharma Master Cheng Yen along with documentaries and news programmes. The station is run by 500 paid staff and 2,000 volunteers.
Medical care, from old to new - acupuncture to brain electrodes
After a day in Taipei we flew to Hualien on Taiwan's east coast. Historically one of the poorer areas of Taiwan, it is home to what is left of the country's aboriginal population. The grey-granite city used to suffer from poor medical services – people were expected to travel to Taipei or elsewhere for treatment of serious conditions.
It was an incident here that led to Master Cheng Yen setting up the medical foundation in 1972. The Foundation headquarters and temple are right next door to the Tzu Chi Hospital, which provides a full range of care – from traditional Chinese acupuncture to the most modern treatments. It runs the world's largest non-government database of bone marrow donors. It treats the symptoms of Parkinson's by using deep brain simulation via implanted electrodes. And it has one of Taiwan's only palliative care wards for terminally ill patients. It also functions as a teaching hospital.
Steve Chen, a marketing guy from Acer who helped show us around, volunteered for a bit of acupuncture for a sore shoulder.
He said it hurt.
The machine behind him can be used to zap the needles with a bit of electricity to increase the flow of chi - the fundamental energy within all living things.
The hospital also provides rather more modern treatment for Parkinson's disease. Patients are first assessed by walking on a touch sensitive floor surface – Parkinson's patients tend to walk on tip-toes, take small steps and topple forward. The treatment involves inserting an electrode through a hole in skull into a part of the brain called the subthalamic nucleus – an MMR scanner is used to get it into the right place because it varies from person to person.
A wire from the electrode leads to a battery and pacemaker unit which is usually inserted under the skin of the chest. It releases a 4-6 volt intermittent current which over-rides the abnormally frequent firing of nerve pulses which is believed to cause Parkinson's. The battery unit can last as long as six years and can be controlled by the patient using a remote control – it can be switched off at night to prolong battery life. There's a BBC video of a banjo player getting a similar implant under local anaesthetic here.
Bone marrow register
The hospital also runs the world's largest non-government database of bone marrow donors – it started work in 1993. There are 314,000 people on the database which has helped match 1,700 donations. Most of these went to mainland China, but 64 went to the US and nine to the UK, among other countries.
Donations are usually collected by giving people drugs to increase marrow production which is then harvested from the blood. The older technique involved cutting open pelvic bones to extract marrow. The hospital also has an umbilical cord blood bank with 13,000 entries. These have been used for 35 transplants worldwide.
Cadavers for medical research
The Tzu Chi hospital came up against a problem in the late 1990s – a lack of bodies to teach students basic anatomy and practise surgical techniques. Although Taiwan is not a very religious country Buddhist, or Chinese, cultural beliefs mean that people do not like the idea of body donation.
This belief led eunuchs in imperial China to carry their testicles around in a small bag in the hope they would be buried with them when they died and so they would be restored to them in the afterlife. The remnants of these beliefs meant the only bodies available for medical students were from people whose bodies were not claimed by friends or family.
Dharma Master Cheng Yen started a campaign to get more people to donate their bodies by starting the "silent mentor" programme – repurposing body donation for local tastes. Parts of the scheme might seem outright weird to some readers but it has led to over 20,000 people signing up – the hospital's 60 students only need a maximum of 14 bodies a year.
Admittedly the majority, 60 per cent, of the volunteers are Foundation members. They use the cadavers not just for basic anatomy but also, because the bodies are frozen, for practising minimally invasive surgical techniques.
Tzu Chi Monastery and the Dharma Master
The final part of our trip was to the Tzu Chi Monastery and a meeting with Dharma Master Cheng Yen. We arrived at 7am, in time to see her deliver her daily talk, which is broadcast on Da Ai TV. She spoke mostly about the day's events – Taiwan was in the middle of a typhoon which killed several people – and about what the Foundation was doing to help.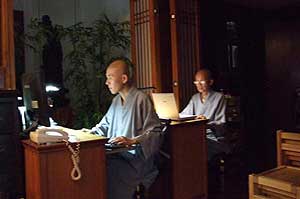 << Two monks working on their laptops
The monastery consists of a small cluster of buildings and a temple, just outside Hualien. Monks grow much of their own food and also produce crackers and bean powder for sale. The place is home to 170 tonsured (shaven headed) monks who must spend at least two years as probationers. We were shown round the various buildings by a monk who grew up and was educated in the US – she graduated from Stanford before joining the order.
The monks are surprisingly techno-literate - even the Dharma Master is no techno-slouch. She uses the internet and email to keep in touch with the group's international work – a heart condition means she is unable to leave Taiwan. She even uses PowerPoint to create notes for her speeches – but does not inflict the slides on her audience. Then we were taken into meet the Dharma Master – slightly unnerving after a week spent in the company of people who prefaced almost every answer to a question with "Dharma Master says…".
She answered our questions gracefully, despite not normally talking to the press. She kept half an eye on a flat screen TV which had the news on in one corner of the room. Her every word was written down by one of the monks, several of whom crowded into the room to hear her speak.
She has a quiet, slightly sing-song voice which is quite hypnotic - especially after four days talking to her followers. I'm not going to attempt to summarise her views here – the Tzu Chi website is a good place to start.
Or how about a couple of Cheng Yen's aphorisms:
Believe in yourself but do not be attached to your own point of view.
or The hardest thing for people to see is themselves.
Whatever you think of her there is something amazing about the scale of the organisation she has created in forty years. And so is the enthusiasm and dedication of the Tzu Chi volunteers and the way they attempt to help and humanise victims of natural disasters. From a Western perspective more used to charity professionals or aid tightly tied to political motives the idea of an international force of volunteers is more than impressive.
The Buddhist Channel - Donate to Support Our Work
An Appeal

In deep gratitude for your support! We are half way to meeting our target (US$ 10,400 of US$ 18,000 already achieved)!
The Buddhist Channel is a dedicated group of "mindful communication practitioners" striving to make a positive impact on the Buddhist community. We deeply believe in the power of mindful journalism and are reaching out to you with a heartfelt request for your support. Your donation, no matter the size, can make a tangible difference in the lives of countless Buddhist monastics, local communities and other dedicated engaged workers. With your help, we make their stories known, and thereby opening up avenues for them to obtain sustainable support for their work.
Please indicate whether your support will be a donation or a loan. We will get back to you via email. We thank you in advance for providing us financial relieve. May the Buddha Dharma ever be your guide and protector.

Note: To date, we have received the following:

US$ 900 from Esa Myllykoski (donation)
US$ 9,500 from Lance Edwards/Kau Soo Kin (loan)

We express our deep gratitude for the support and generosity.
If you have any enquiries, please write to: editor@buddhistchannel.tv