Thousands pay homage to Dharma Master
The China Post, Feb 5, 2009
TAIPEI, Taiwan -- Thousands of people flocked to the headquarters of the Dharma Drum Mountain Foundation yesterday to pay homage to Dharma Master Sheng Yen who passed away Tuesday at the age of 80.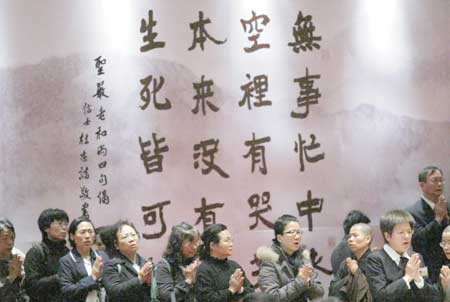 Tens of thousands of people from all around Taiwan and abroad form long lines to pay homage to Dharma Master Sheng Yen, who passed away Tuesday at the age of 80. Chinese characters in the background show some of the Master's teachings that have helped countless people overcome adversity in daily life. (CNA )
President Ma Ying-jeou took the lead by personally traveling to Dharma Drum Mountain in Jinshan, Taipei County to pay his respects Tuesday night.
Ma expressed thanks to Master Sheng Yen for his positive influence on Taiwan society.
Vice President Vincent Siew and Premier Liu Chao-shiuan were among other senor officials who paid homage yesterday morning.
Siew stood by the side of the casket of Sheng Yen for almost 10 minutes to reflect on the masters' teachings.
The vice president said he met the master for the last time on Jan. 9, when he paid him a visit after being admitted to National Taiwan University Hospital Jan. 5.
Siew said he admired Sheng Yen's strong will and his deep concern for Taiwan society, and enhancing the quality of character despite feeble physical conditions.
He urged people in Taiwan to help fulfill one of Master Sheng Yen's major wishes — establishing a university named after the Dharma Drum.
Premier Liu said Master Sheng Yen's teachings for universal well-being have transcended ethnic and national boundaries. This is why he was able to attract tens of thousands of students and followers worldwide, Liu said.
Former Vice President Annette Lu, incumbent Chairwoman Tsai Ing-wen of the opposition Democratic Progressive Party, and Taiwan Solidarity Union Chairman Huang Kun-hui were also among political figures to pay their respects.
Business and industry leaders joined with people of all ages and backgrounds to pay homage, including chairman Terry Guo of the Hon Hai Group, and chairman Winston Wang of the Grace International Group.
Other celebrities flew to Taiwan for the occasion, including well-known actor Jet Li and actress Lin Ching-hsia.
They thanked Master Sheng Yen for giving them spiritual guidance during times of adversity in their careers.
People on the other side of the Taiwan Strait also expressed condolences. Wang Yi, director of Beijing's Taiwan Affairs Office, and officials of China's Religion Bureau as well as Buddhist leaders also sent formal messages of support and condolence.
Wang expressed hope the Dharma Drum Mountain Foundation would continue successfully promoting cross-strait religious interchanges.
Sheng Yen, who was born in China, led Taiwan delegations for six exchange visits to China in recent years.
Also, Wang thanked Master Sheng Yen and his students for their active assistance to victims of the devastating earthquake in May last year.