Dharma Master Sheng Yen cremated in Miaoli County
Taiwan News, Feb 10, 2009
Taipei, Taiwan -- Buddhist Dharma Master Sheng Yen was cremated in Miaoli County yesterday as thousands of followers lined the streets to bid him farewell.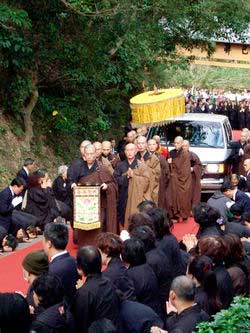 Sheng-yen died of kidney failure Feb. 3 at the age of 80. He had served as abbott of the Nung Chan Monastery before establishing a Buddhist sanctuary in Dharma Drum Mountain in Chinshan in suburban Taipei in 1989.
Monks and nuns in black and brown robes accompanied the hearse and followers knelt by the side of the road in the rain as he left the headquarters of his Dharma Drum Foundation in the hills of Jinshan in Taipei County.
At the Chuanhua Hall in Shihtoushan, the site for his cremation, cable stations estimated the audience as between 10,000 and 20,000 people.
Ceremonies earlier in the week attracted dozens of politicians, business leaders, and prominent cultural figures such as choreographer Lin Huai-min and Chinese movie star Jet Li. Taipei County chief Chou Hsi-wei and Quanta Computer chairman Barry Lam were present yesterday morning.
His body was cremated Sunday after monks sounded a gigantic bell inscribed with Buddhist scriptures at the Dharma Drum Mountain. Eight monks then carried Sheng-yen's body — covered by golden sheets in a hearse_ down a winding mountain road lined with followers, solemnly clapping their hands.
Sheng-yen was venerated for his teachings of mercy, simple life and fulfillment of one's duties. "Face up with the difficult situation, overcome it and then put it aside to have a peace of mind," he had said.
In keeping with such philosophy, the Dharma Drum Mountain sanctuary has banned practices deemed superstitious but commonly adopted by other Taiwanese temples, such as the burning of incense sticks and paper money dedicated to ghosts.
Since his death, followers in black suits or ceremonial gowns have streamed in and out of the sanctuary with offerings of flowers in mass prayers, and many others were doing simple prayers at home.
The master's ashes will be scattered in the woods next to the sanctuary on Fdeb 15, following his wish to replace elaborate burials, followers said.
Master Sheng Yen was born in China's Jiangsu Province, and first became a monk at the age of 13. He was later drafted into the armies of Chinese Nationalist leader Chiang Kai-shek, and followed him to Taiwan as defeat by the Communists loomed.
He later rejoined Buddhist monkhood and established his foundation in 1989. He paid numerous visits overseas, and established centers in New York State and Singapore.
He developed a malignant tumor a couple of years ago, leading to the removal of his left kidney. In 2006, he lost the function of his right kidney, necessitating dialysis three times a week. He recently turned down an offer from hospital to undergo a kidney transplant, saying it wasn't worth wasting effort on an old man like him, reports said.
Master Sheng Yen entered National Taiwan University Hospital on Jan. 5 to receive treatment for urinary tract cancer, but returned to Jinshan the day before he died.