Ashes of Master Sheng Yen buried
China Post, Feb 16, 2009
TAIPEI, Taiwan -- The Most Venerable Sheng Yen, Taiwan's top Zen master who died on Feb. 3, became one with nature in a forest interment yesterday.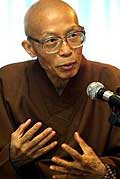 President Ma Ying-jeou attended the arboreal burial, helping lay ashes of the great Buddhist leader in his eternal resting place beneath the root system of a tree at the Life Memorial Garden.
In a eulogy, Ma lauded Master Sheng Yen for launching an ethics rearmament movement aimed at achieving social harmony in Taiwan.
The master's "ethics of the heart" stresses harmony in family, life, school, nature, workplaces and communities.
A presidential citation was presented to the Most Venerable Guo Dong, new abbot president of Dharma Drum Mountain and the heir to Master Sheng Yen.
Master Guo Dong led five groups of followers to perform the last rite of interment, which was completed in 15 minutes.
They placed ashes in five holes around the roots of the tree in the two-acre eco friendly cemetery, run by the Dharma Drum Foundation set up by Master Sheng Yen.
Flowers were laid over the ashes, which were then covered with earth. There are neither tomb stones nor epitaphs.
Vice President Vincent Siew was one of the followers who laid flowers.
All followers attending the rite wrote votive prayers. The votive papers were then hung on the tree. They prayed for peace and harmony.
After he had passed away, Master Sheng Yen's remains were cremated at Miaoli last Monday. The saria, or ashes, were taken to Dharma Drum Mountain and lay in state at its Hall for a week.
Thousands of faithful visited Dharma Drum Mountain to pay their last homage to the late Zen master during the week.
More than 30,000 converged on the Life Memorial Garden long before the last rite started at 2:20 p.m.
Born near Shanghai in 1931, Master Sheng Yen entered the Guan Jian Monastery at the age of 13 and studied at several others in China.
He came to Taiwan in 1949 as an army telegraph operator. After being discharged, he continued studies in Japan and obtained a Ph.D. degree from Rissho University in 1975. He also propagated the dharma in the United States.
In 1985, he founded the Chung Hwa Institute of Buddhist Studies in Taipei, a graduate school and conference center. The International Cultural and Educational Foundation of Dharma Drum Mountain was established in 1989.
The master published more than 90 books in Chinese, English, Japanese, Vietnamese, Spanish, Portuguese, Italian, German and French.
An active environmentalist, the master was one of the keynote speakers at the Millennium World Peace Summit of Religious and Spiritual Leaders at the United Nations and in the environmental protection workshop at Waldorf Astoria Hotel.
Sheng Yen made a will in 2004, instructing that after his death, a simple Buddhist rite should be held where only "Namo Ami Tuofo (Homage to Amitabha)" should be chanted.
His successor decided on forest interment with a Buddhist rite befitting the environmentalist Zen master.
One of his best known ghathas (phrases) is:
"Busy with nothing, growing old.
"Within emptiness, weeping, laughing.
"Intrinsically, there is no 'I.'
"Life and death, thus cast aside."
The fundamental belief of Zen Buddhism is: There is nothing. Buddhism stresses anatta, or non-existence of ego. There is no "I."