Dalai Lama says eager to visit Taiwan: report
AFP, Feb 25, 2009
TAIPEI, Taiwan -- Exiled Tibetan leader the Dalai Lama has reiterated his wishes to visit Taiwan in an interview with a Taiwanese cable news channel broadcast here on Wednesday.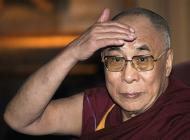 "I am very eager since my first and second visit," he said in an interview in India with FTV, referring to his historic first trip to Taiwan in March 1997 and again in 2001, both times triggering strong condemnation from China.
The Dalai Lama had voiced his desire to visit Taiwan in an interview last year with a local newspaper in Dharamshala, the town in northern India where his exiled government has been based since a failed uprising in 1959.
But Taiwan's Beijing-friendly President Ma Ying-jeou has said the timing was not right for such a visit amid improving ties between Taipei and Beijing, despite an outcry on the island.
The pro-independence opposition Democratic Progressive Party (DPP) has accused Ma of bowing down to Beijing while some members of his Kuomintang party also urged him to reconsider the issue.
When asked about Ma's remarks, the Dalai Lama replied "I am eager but (the visit) is not finalised ... I do not want to create unnecessary inconvenience."
He said he thought the Chinese government was "very sensitive" about any potential visit by him to the island.
In the interview the 73-year-old also shrugged off concerns over his health after he underwent a surgery to remove gallstones last year, claiming that his doctors told him he had the health of someone ten years younger.
The Dalai Lama is reviled by the Chinese government, which has branded him a "monster" and has accused him of trying to split the nation.
Ties between Taipei and Beijing have improved dramatically since Ma took office last May pledging to boost cross-Strait trade and tourism links, following eight years of strained relations under the Democratic Progressive Party.
Officially, Beijing considers the island part of its territory awaiting reunification, by force if necessary, despite their split in 1949 after a civil war.