Taiwan Buddhist master: 'No Taiwanese'
By Loa Iok-sin, Taipei Times, Mar 31, 2009
WHO'S WHO?: Some participants at a world Buddhist forum said that there were obvious signs of political meddling in what should have been a religious event
Taipei, Taiwan -- Buddhist Master and founder of the Fo Kuang Shan monastery Hsing Yun came under fire as he arrived back in Taiwan yesterday for the second half of the World Buddhist Forum.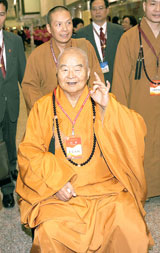 << Buddhist Master Hsing Yun poses at the World Buddhist Forum in Taipei yesterday.
PHOTO: YAO KAI-SHIOU, TAIPEI TIMES
The criticism came as details of a series of comments Hsing Yun made while in China came to light as he and about 800 Buddhist leaders from more than 10 countries arrived in Taipei on four flights from China.
During a press conference at the forum on Friday in Wuxi, Jiangsu Province, Hsing Yun said that "both sides of the Taiwan Strait belong to one family. There are no Taiwanese in Taiwan and Taiwanese are all Chinese."
"Which Taiwanese is not Chinese?" he asked. "They are Chinese just like you are. We are all brothers and sisters."
Hsing Yun also said that opening the forum in China and closing it in Taiwan was especially meaningful because it would enhance cross-strait exchanges and help the unification of the two sides, the Hong Kong-based newspaper Ta Kung Pao reported on Saturday.
"The more [cross-strait] exchange we have, the more mixed we will be. Then we won't be able to distinguish who's Mainland [Chinese] and who's Taiwanese — and we will naturally become unified," Hsing Yun was quoted as saying.
The forum — organized by Buddhist leaders from Taiwan and China — opened on Friday in China before moving to Taiwan yesterday.
Although organizers said the forum was purely a religious event, political remarks were heard throughout the meeting, drawing criticism from some Buddhists.
Daphne Young, a Taiwanese Buddhist and a member of the support group Taiwan Friends of Tibet, said the forum was a good example of political meddling in religion.
"The forum opens in China and closes in Taiwan — it's obvious that they're trying to create the impression that Taiwan is part of China," Young said. "From what Taiwanese Buddhist leaders said at the forum, it's also obvious that they are politically motivated."
Young said it was ironic that China's State Administration for Religious Affairs chief Ye Xiaowen attended the forum.
"Ye is the main person behind the new law regulating reincarnation of monks in Tibetan Buddhism, which destroys a core tradition in Tibetan Buddhism," she said.
Tibetan Buddhists believe that spiritual leaders return through reincarnation. A set of procedures exists to identify reincarnated spiritual leaders. However, China adopted a law last year that stipulates that all reincarnations have to receive state approval.
"If [the Buddhist leaders] are benevolent enough, they should pay some attention to Tibetan Buddhists in Tibet who are repressed by the Chinese Communist Party [CCP] regime," Young said.
Another senior Taiwanese Buddhist, who spoke on condition of anonymity, said he had been invited to both last year's and this year's World Buddhist Forum, but rejected the invitation "because I don't want to become a CCP tool in its unification war."
Forum spokesman Chinese Buddhist Master Shih Mingsheng had earlier said that the Dalai Lama was not invited because he is a "separatist" who has tried to "divide China."
Dawa Tsering, chairman of the Religious Foundation of His Holiness the Dalai Lama, said that while he believes any form of religious exchange is a positive activity, "it is not when it becomes a political tool of the CCP."
At the beginning of the forum, the 11th Panchen Lama — the second-highest Tibetan spiritual leader appointed by the Chinese government in 1995, but rejected by most Tibetan Buddhists — delivered a speech praising the CCP, saying it had brought prosperity to Tibet and that Chinese enjoy full freedom of religion under CCP rule.
In May 1995, the Dalai Lama chose a six-year-old boy as the 11th Panchen Lama. The boy and his family disappeared soon after and have not been heard from since.