Turning Buddhist Temples into rescue shelters for Taiwan's typhoon victims
Life News Agency, Aug 14, 2009
Kaohsiung, Taiwan -- Venerable Master Hsing Yun, founder of Fo Guang Shan, have instructed every branch temple in Taiwan to turn into a temporary shelter for the survivors of typhoon Morakot.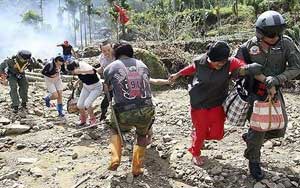 << 108 people were killed, 45 injured and 62 still missing in Taiwan's worst typhoon in 50 years
The Venerable Master further instructed that every Fo Guang Shan branch temples to settle disaster victims in Buddha halls and provide them with various goods and materials.
As a response to the devastating conditions left by Typhoon Morakot, "Fo Guang Shan Rescue Operations" was established on August 7th. Chief Commander of the Operation, Venerable Hui Chuan gave immediate instructions to all the Fo Guang Shan branch temples in Taiwan to put in all efforts in the rescue operation, and to cooperate with the Kaohsiung County Government and other related departments.
Having heard of the devastating news, an immediate donation of 10 million dollars (NT) by the founder of Fo Guang Shan, Venerable Master Hsing Yun, was made to the Typhoon Morakot Relief and Rescue Fund.
In addition, all the branch temples of Fo Guang Shan were offered as shelters for the survivors, monks and nuns were sent to provide spiritual support to the survivors, and worldwide branch temples conducted chanting services to pray and bless the residents affected by the typhoon.
On August 10th, the Army Aviation Corps sent UH1H helicopters into Siaolin village, a remote village, and rescued 19 people. They transported them to the Cishan Social Welfare Complex for breakfast and then Fo Guang Shan Cishan Buddhist Center.
The weak and ill were sent to Chi-Shan Hospital for treatment. The Magistrate of Kaohsiung County, Yang Chiu-hsing was also present to inspect the disaster areas and direct the operations.
Later, he went to Cishan Buddhist Center to comfort the survivors who were placed in the Fo Guang Shan Cishan Buddhist Center. Liao Liao-yi of the Ministry of the Interior, also rushed to the scene to care for the conditions of the disaster.
"Venerable Master is very concerned about the recent typhoon situation. He instructed Fo Guang Shan to fully cooperate with the government, and offer support and assistance in rescue and relief work," said Venerable Hui Chuan at the Cishan Buddhist Center.
Besides expressing his gratitude to Venerable Master and Fo Guang Shan for their care and concern, Magistrate Yang also expressed his appreciation when he saw the temple turned into a shelter for the survivors, which was well equipped and organized with foods and beverage, rooms, a medical team, and so forth.
As there are still many trapped in the disaster areas, there are requests for donation of goods and materials. Fo Guang Shan asks for support of the society.
You can make a donation to:
Account name: Fo Guang Shan Monastery
Account number: 04632451
Fo Guang Shan Rescue Operation line: (07) 656-1921 ext. 1919.