Charities get aid to disaster victims faster than government
by Julia Chen, Central News Agency, Aug 18, 2009
Taipei, Taiwan -- Ten days have passed since Typhoon Morakot unleashed massive floods and lethal landslides in southern Taiwan, but the government has made little progress in distributing cash subsidies to families who lost loved ones in the disaster.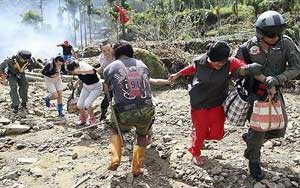 Soon after the severe flooding, the government promised that families whose loved ones have died or gone missing due to the natural disaster would receive NT$1 million (US$30,488) per casualty in condolence money.
To date, however, only 35 families have received the money because of the complicated procedures applicants must follow in applying for the money.
Death certificates and the IDs of the deceased relatives of the are required as part of the application process, but many documents were flushed away by the flooding and are simply not available.
This bureaucratic approach to disaster relief has disappointed many flood victims and drawn criticism, but charitable organizations are temporarily filling the void by distributing aid to individuals left homeless.
Responding to the government's appeals for help, the Red Cross Foundation started to pass out subsidies of NT$5,000 per person Monday, according to lists from emergency placement centers, and planned to support 5,400 people in three days.
In the past, the Red Cross usually handed out subsidies to each household but this was the first time that subsidies were passed out to individuals.
The Buddhist Tzu Chi Foundation has also been effective in distributing financial aid, passing out subsidies of NT$5,000 to NT$10,000 beginning the day after the floods according to lists obtained from township offices.
Some 22,000 households have received the subsidy to date.