China tempers response to Dalai Lama 4-day visit
The China Post, Aug 29, 2009
TAIPEI, Taiwan -- Officials in Taipei heaved a collective sigh of relief yesterday. Kuomintang leaders, from President Ma Ying-jeou on down, were bracing for the tit for tat from Beijing after an entry visa was given to the Dalai Lama in Dharamsala Thursday to come to Taiwan to pray for the victims of the flood disaster of August 8.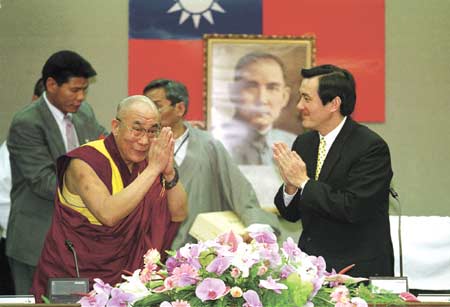 << In this file photo taken on April 1, 2001, The Dalai Lama, left, and then-Taipei City Mayor Ma Ying-jeou put their palms together and smile at each other as the Dalai Lama visits the mayor at Taipei City Hall, in Taipei, Taiwan. (AP/CNA)
Of course, China promptly denounced the Dalai Lama's visit, which is all set to start tomorrow. But no retaliation has been announced, yet.
China's wait-and-see may erupt into polemics -- and a quick quid pro quo to get even -- if Ma buckles under pressure from the Democratic Progressive Party to meet with the Tibetan spiritual leader.
The opposition party set a one-stone-to-kill-two-birds trap for a vulnerable President Ma under fire for delays in helping Morakot victims by inviting the Dalai Lama to come to offer a political prayer for the after-life happiness of the dead.
The Morakot death toll might soar over 600.
Ma was forced to agree to let the Vajrayana Buddhist leader come to promote his Tibetan autonomy cause. Ma would be damned, if he didn't. He would be damned just as well if he did.
Opposition party lawmakers are clamoring for a Ma-Dalai Lama meeting. Tsai Ing-wen, their party chairwoman, would meet with the tantric Buddhist pope. She said it's up to Ma to "make his own" decision.
Former President Lee Teng-hui will meet the Dalai Lama.
Dawa Tsering, the Dalai Lama's representative in Taipei, is making the appointments for the Nobel prize winning monk-king in Taiwan.
The Dalai Lama will be staying in southern Taiwan for three days and in Taipei for one day before he has to leave for the Indian capital of his exile government on September 4.
While in southern Taiwan, the Dalai Lama will visit a number of destroyed indigenous tribal villages to pray. Most of the residents killed, however, were Catholics.
He will call a press conference and meet with religious leaders of Taiwan in Kaohsiung. Among them are Paul Cardinal Shan and Master Hsingyun.
President Ma is unlikely to meet the Dalai Lama, his spokesman Tony Wang said.
"The President," Wang said, "is scheduled to attend a national Buddhist prayer meeting on September 7. He has no plans to attend any other Buddhist mass."
By then, the Dalai Lama will be back in Dharamsala.
Asked if the president may meet with the Dalai Lama "not openly," Wang said, "it ought not to be."
"He will be here for humanitarian and religious activities," Wang said. "We won't make any such arrangements (for a secret meeting)," he pointed out.
That's what Beijing wants to see happen in Taipei.
As a matter of fact, China "strongly opposes" the Dalai Lama's visit in order to help calm the nerves of zealous nationalist patriots. They are blasting Ma for repaying the favors with spite.
At Beijing's urging, the Chinese donated an unprecedented NT$4 billion in cash for the relief of the flood victims in Taiwan. Beijing offered to lend heavy-lift helicopters to help reopen the blocked routes of communication to the isolated villages. Prefab housing units were sent across the Taiwan Strait.
The Chinese were frustrated, because Taipei turned down the chopper offer and made it hard for the Chinese technicians to come to Taiwan to set up the housing units, which were reported in Taipei at one time to have been contaminated by formaldehyde.
They were deeply offended that Taiwan rejected the dispatch of Chinese rescue and relief workers. Their patience snapped when President Ma decided to welcome the Dalai Lama the "separatist" to Taiwan.
As a result, they want Ma "to bear the consequences."
Beijing had to take this patriotic outcry into consideration.
Should the Ma-Dalai Lama meeting take place, the burgeoning detente between Taiwan and China would come to a screeching halt. For one thing, Ma would have to forget about an economic cooperation framework agreement that will prevent Taiwan from being marginalized in an emerging free trade zone in Asia.
The opposition party is doing what it can to abort the ECFA.