Venerable Dharma Master Cheng Yen Guides Asustek Plan to Challenge IPad
By Tim Culpan and Bruce Einhorn, Businessweek, May 18, 2010
Taipei, Taiwan -- Venerable Dharma Master Cheng Yen, 73, leads Taiwan's largest charity of 120,000 volunteers and teaches Buddhism on her television show. Add to her résumé product tester for Asustek Computer Inc.'s e-book reader.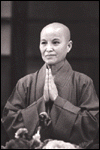 "Because of her patience she can do a better job testing than most," said Jonney Shih, chairman of the Taipei-based computer maker and honorary board member of Cheng Yen's Tzu Chi Foundation. "Some ideas were a little bit different from normal usage, but I asked my team to sincerely accept that advice."
Asustek, whose Eee PC pioneered the market for sub-$500 laptops in 2007, is seeking guidance as it prepares to challenge iPad-maker Apple Inc. and Kindle-maker Amazon.com Inc. in the e- book reader industry. Asustek shares have fallen 18 percent this year, more than double the island's benchmark index, on concern demand for its fastest-growing product is slowing.
"The growth story for Eee PCs is over," said Calvin Huang, who rates Asustek shares "outperform" at Daiwa Securities Group Inc. in Taipei. "E-readers will also be a challenge as that's all about content."
Industry shipments of low-cost laptops known as netbooks will increase 16 percent this year after tripling in 2009, said Bryan Ma, a Singapore-based analyst at research firm IDC. Competition from Acer Inc. has eroded Asustek's share of the netbook market to 17 percent in the fourth quarter, from 86 percent in the first quarter of 2008, according to Ma.
Master's Advice
The need to develop new businesses prompted Shih to turn to take on the Buddhist master's advice. Cheng Yen recommended Asustek boost the response time of its e-book reader and let users write notes on the device, said Shih, who eschews meat and alcohol in line with Buddhist philosophy.
The Buddhist leader also helped Asustek assess SiPix Imaging Inc.'s electronic-ink as an alternative to the E Ink Corp. technology used by Amazon's Kindle and which may allow the company to offer readers at half the price, Shih said.
The charity is testing e-book readers for its Buddhist scriptures and to record donations, said Shih, whose company donated land next to its headquarters for Tzu Chi's Taipei office. Cheng Yen, who gives daily sermons on Tzu Chi's Da-ai TV station in traditional robes and shaved head, founded the organization in 1966.
"Master Cheng Yen realized that technology can be a great tool for helping our organization," said Chad Liu, a spokesman for Tzu Chi, which is based in Hualian, eastern Taiwan. Cheng Yen was not available for comment, Shirley Lin, a public relations spokeswoman, said today.
The reward for Tzu Chi's help will be a final version of the product tailored to the charity's needs in the next two months, as early as three months before the commercial release, Shih said.
"I am doing it first for them because she is the inspiration," Shih said. "She told me 'this is a good thing,' and I said 'yes, this is a good thing, we should do it.'"