Tzu Chi sends relief goods to quake-stricken Indonesian island
Reliefweb, March 28, 2005
Taipei, Taiwan -- Volunteers of the Taiwan Buddhist Tzu Chi Foundation began transporting relief goods to the Indonesian island of Nias from Medan on March 29, one day after a magnitude-8.7 earthquake struck the island famed as a surfing paradise.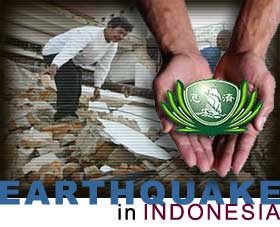 Shortly after the devastating quake struck the island on March 28, Tzu Chi volunteers in Indonesia was in close contact with the Tzu Chi headquarters in Taiwan and the Indonesian government's disaster center for Aceh and North Sumatra, while making preparations for sending emergency relief goods.
Five trucks left Medan at 8 p.m. on March 29 (local time) with relief goods including 1,400 blankets, 1,402 boxes of cookies, 1,000 boxes of mineral water, 200 tents, 100 boxes of facemasks and 380 body bags. Five other trucks carrying a total of 50 tons of rice will soon follow .
The relief goods will first be transported to Sibolga, a port city on the opposite side of Nias island, and then be shipped to the disaster area by ship.
Eight Tzu Chi volunteers, six from Medan and two from Jakarta, are scheduled to fly to the disaster area by a light aircraft on March 30 to assess the situation.
Over the past three months, Tzu Chi volunteers have been active in providing assistance to the survivors of last December's earthquake and tsunami in Aceh Province.
The tent communities Tzu Chi is setting up are close to completion, with 1,200 house-style tents in the Meulaboh area and 1,913 house-style tents in Jantho, 37 miles from Banda Aceh.
Each tent house (3.6mx4.8mx2.5m) can shelter 5-6 persons and is built on a wooden base to guard against flooding. Common kitchens and common bathrooms are provided.
Tzu Chi will also build 3,000 permanent houses for the survivors in Aceh Province. The Indonesian authorities have provided about 100 hectares of land in Neuheun, nine miles from Banda Aceh, for building 2,000 permanent houses. The location for the remaining 1,000 houses has yet to be decided.