Why I'm imperfect, the Dalai tells
Sunshine Coast Daily, 17 June 2011
The Dalai Lama shared some light-hearted moments during his address to a crowd of 4000 at the Chenrezig Buddhist Institute, Eudlo.

Eudlo, Australia -- A CHARMING, chuckling, sometimes cheeky Dalai Lama reminded a crowd of 4000 people that happiness was found on the inside rather than the outside when he visited the Chenrezig Buddhist instititute at Eudlo
yesterday.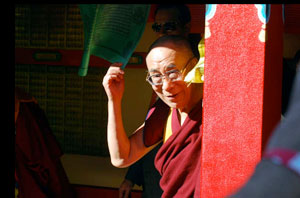 << Warren Lynam
Photos Dalai Lama visits the Sunshine Coast
In a talk that started with a simple, "So, hello everybody," and wandered from the false happiness of affluence, to the power of the mind, and the practice of religion, the Tibetan spiritual leader urged people to approach their every day lives with optimism, compassion and kindness.
He said the modern world, for all of its changes and technological benefits, had not necessarily made people happier.
"External change is not necessarily bringing inner peace," he said.
His Holiness warned that too much anger and stress could damage one's health, and expressed some pleasure in a growing scientific interest in the power of the mind.
He urged respect for others, and urged those who accepted religion into their lives, whatever their faith, to practise it every day.
However, he candidly admitted that he had not always been the best at religious practice himself, describing the temptations of material possessions.
"I'm a poor practitioner. In the earlier sort of days, I think '80s or'70s... in America, sometimes, I would go shopping, not really buying but just to see beautiful different articles," he said.
"From one corner of my mind, I would think, 'I want that,' and then I would think, 'Do I need that?'" he chuckled, prompting one of many moments of laughter for the audience.
About 3500 people paid between $35 and $50 a ticket and travelled up to hundreds of kilometres for the rare chance to see the Dalai Lama speak.
Crowd numbers were boosted by 500 school children who had been invited to attend a workshop on secular ethics and put foward questions for the Dalai Lama.
Geoff Schmidt, 43, a Buddhist of about four years, rose at 6am to drive from his home on Brisbane's southside to be part of the event.
"I'm just hear to learn as much as I can from a very wise man," he said.
The Dalai Lama spoke for about 45 minutes before addressing some of the questions put forward by a moderator, ABC Radio National presenter Rachael Kohn, but only got through about five of the 20 queries to make the cut before time was up.
He played a quick game of peek-a-boo under prayer flags for cameras before being shepherded away to a waiting helicopter by minders in suits who had kept a close eye on proceedings from around the stage during his appearance.
Shane Young, 53, who travelled from Monto with his son, daughter and baby grandson for the event, said it had been worth the trip.
Mr Young said that he and his family just wanted to be in the Dalai Lama's presence and hear what he had to say.
"We're all on the same plane. We just like to hear it again from the top," he said.
Tickets sold out well in advance for the Dalai Lama's visit and some were reportedly being sold for inflated prices by scalpers.
Although there were no visible hawkers outside the property, a ticket sold on EBay for $148.50, nearly three times the original price.