Spreading Buddha: new temple boosts community
by Barney Zwartz, The Age, October 31, 2011
Melbourne, Australia -- Buddhists from Melbourne and around the world take part in the stone-laying ceremony at Linh Son Temple in Reservoir.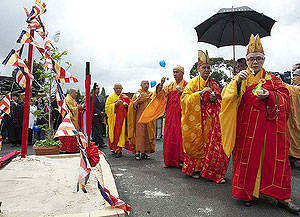 << Buddhists from Melbourne and around the world take part in the stone-laying ceremony at Linh Son Temple in Reservoir. Photo: Wayne Taylor
FROM worshipping in a small rented house in Richmond, to a run-down primary school, to a large and handsome temple in traditional architecture backed by a pagoda represents significant progress for Melbourne's Vietnamese Buddhist community.
And they enjoyed it in full yesterday, though the new temple exists only as a cardboard model, a marble foundation stone and in plans approved by the Darebin council.
High-ranking Buddhists came from as far as Taiwan, Vietnam and France, interstate, and across Melbourne for the stone-laying ceremony at the Reservoir site of the Linh Son (Sacred Mountain) Temple.
Sometimes it poured, sometimes it drizzled, and sometimes it was merely damp as the celebrators shivered under awnings, but those among the 2000 or so who wearied simply went inside the existing temple, the former Lakeside Primary School, and indulged in some of the delicious hot Vietnamese food lining long tables.
Ceremonies began with the Australian and Vietnamese anthems, then spectacular Vietnamese dancing, pitting a red lion against a yellow lion.
The dozen speeches lasted decades - or at least a couple of hours. They were held in front of an outdoor altar, complete with Buddha, flowers and fruit, but after a while many worshippers simply wandered around, chatted and took photographs.
Then came a procession of women, children and flowers, all in gorgeous array, then the turning of the earth for the stone - though this was invisible behind a seething mass of Vietnamese with cameras.
Tony Abbott sent a letter of congratulation, but it's just as well Julia Gillard wasn't there - she would have learnt she had more rivals than she thought. Every caucasian dignitary was announced as Prime Minister - for example, the Prime Minister for Town Planning for the Darebin Council.
The Venerable Abbot Dao Thich arrived in Australia as a refugee in 1991, and rented a small house in Richmond to cater to Vietnamese migrants. In his speech, he said a temple is built to dispel the darkness of ignorance, to relieve suffering, to provide refuge and peace, and study and practise the Buddha's teachings.
This one, the biggest in northern Melbourne with several thousand members, will also be a cultural and community centre. ''A temple is like a bridge that connects all the different ways of the different people,'' Master Dao said.
The community is not sure when building will start (probably early next year) or how long it will take (section by section). The project will cost several million dollars, and members hinted that state or council aid would be welcome.