Buddhist retreats growth plans
by Terra Sword, Northern Rivers Echo, 19th January 2012
Northern Rivers, Australia -- The Buddha Dharma Education Association has lodged a DA with Lismore Council for a $2.8 million expansion of the Bodhi Tree Forest Monastery in Tullera.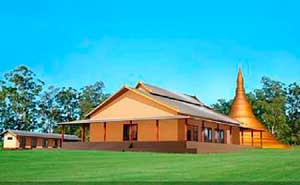 President and long-time Buddhist monk Venerable Pannyavaro said they are hoping to run 10-day Vipassana retreats, weekend workshops and longer teaching retreats, with accommodation for around 40 meditators.
The association has applied to build a 15-metre stupa beside a meditation hall, dining hall and pagoda with guest accommodation and car parking.
"We are practising Buddhists who are trying to service the community's need for mental health and wellbeing," Venerable Pannyavaro said. "Vipassana meditation has a great therapeutic benefit. We see the community being built up here over the years and we have a good relationship with the neighbours."
The not-for-profit association bought the land six years ago and the monastery was included in National Geographic's book of '500 of the world's most peaceful and powerful destinations'. The Bodhi Tree Forest Monastery has done lots of bush regeneration on the property, planting more than 4000 rainforest species including koala food trees.
Venerable Pannyavaro says the land was specifically purchased for a sanctuary and hermitage, and said the monks do not see themselves as the owners but rather the custodians of the land. They wish to rehabilitate and care for the 95-acre property while providing a tranquil setting where people can come to meditate.
He said ensuring the development was at peace with the natural environment was all part of the vision.
"It will be solar powered and very low impact on the environment… we're very green," Venerable Pannyavaro said. "We have our own organic vegetable gardens and fruit trees and we'll be expanding that too… growing our food for the centre is important to us. A lot of our energy has gone into rejuvenating the property and everything will be blended into the landscape.
"We want visitors to come here and find a natural environment that's harmonious and nicely landscaped, that's mellow and soft and very conducive for meditation."
Venerable Pannyavaro explained how he lived in Mullumbimby 30 years ago and when he returned to the Northern Rivers in mid-2000 he felt that a major Buddhist centre was lacking in the North Coast area.
"We want to be here for the wellbeing of ourselves and the community," he said.
The DA for the retreat is on public exhibition at Lismore City Council until January 27.