Lama Traleg Kyabgon Rinpoche passes away in Australia
The Age, Sept 26, 2012
Melbourne, Australia -- TRALEG Kyabgon Rinpoche drew thousands of Australians to the considered life of contemplation on the nature of mind. A pioneer of ''integrated Buddhism'', he exemplified the tradition that meditation is a path not only to calming the mind but to inner transformation of the self.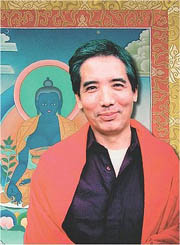 << TRALEG KYABGON RINPOCHE
HIGH BUDDHIST LAMA
1955 - 24-7-2012
He passed away suddenly in Melbourne where he had lived for 32 years. He was 57.
Born in 1955 in a remote pastoral region of Tibet, at a time when China's People's Liberation Army was violently consolidating its power, he was recognised at an early age as the ninth in the lineage of the Traleg Kyabgons, and was installed as abbot of Thrangu monastery in Qinghai province.
Aerial bombardment of monasteries forced him to trek across Tibet, to distant Lhasa, for safety at the monastery of the Karmapa, head of the Kagyu order of Tibetan Buddhism. This too became exposed to the political violence of the times, leaving no choice but to flee south, the child leading a large group through the Himalayan mountains to seek refuge in another country.
Although he became a refugee before he was six, he never lost a sense of embodied connection with Tibet, recalling later: ''You're born of that place, not just from that place. You are of that place, made of the very ground you walk upon and the air you breathe.''
Life in exile, in Bhutan, India and Sikkim, was tough. In an overcrowded camp, exposed to unfamiliar food and climate, his mother died. For a young reincarnate lama, the expectations of an entire civilisation fell upon his shoulders.
He fulfilled all expectations and trained rigorously in Buddhist philosophy and meditative techniques to realise the nature of mind and exemplify that profound existential insight.
At a time when all seemed doomed in Tibet, he bore the continuity of a culture, having been born to a primary responsibility for maintaining unbroken a lineage of many centuries.
Other lamas also managed to escape in 1959, and, with great care, older teachers, learned khenpos, became father and mother, instructors in mind training and the transmission of the many texts to be memorised and inwardly realised.
There were 20 years of intensive study and practice at Rumtek monastery, Darjeeling, and the Institute of Higher Tibetan Studies in Varanasi. Later, in Bhutan, under the guidance of a Jesuit priest, Father William Mackey, he learnt English. In the 1970s, as Australians began exploring Buddhism, he translated for His Holiness Karmapa, in exile in Sikkim.
In 1980, at the age of 25, he migrated to Melbourne, where for the next 32 years he encouraged Buddhist practice to take root.
Traleg Rinpoche was keenly interested in contemporary psychology, philosophy, comparative religion, interfaith dialogue and the hopes and fears of Australians. Within a year of his arrival he was presenting at an international Transpersonal Psychology Conference for health professionals in the Yarra Valley.
As a postgraduate in the Religious Studies department of La Trobe University and in what became an enormous personal library, he studied all religious traditions in depth, the study of early Buddhism in the original Sanskrit and Pali; and the Hindu doctrines critiqued by early Buddhism.
He made North Carlton the base of Kagyu E-Vam Buddhist Institute (E-Vam Institute). In 1984 he established the Buddhist Summer School, which has become an annual fixture of Melbourne adult education, in the second week of each year, showcasing the full spectrum of Buddhist approaches to the mind, art, therapy, healing and yoga.
Rinpoche understood the Australian individualists of his generation, and the more amenable generation that followed, who were less inclined to reinvent everything.
He sought a contemporary language that effectively turns minds. He worked with whoever came, doing all he could to point them towards awakening.
He reminded seekers after spirituality that intellectual understanding of philosophical texts keeps one's bearings on the map of the journey inward.
He reminded those who preferred to see Buddhism only as a philosophy that meditation is the necessary tool for making the mind familiar with its own nature.
He suggested to those of a negative frame of mind that taking on the role of victim is counterproductive.
To those inclined to see Buddhism as purely mental training, he emphasised physicality, embodiment, with practical yoga exercises and pranayam.
To those of a devotional inclination, he emphasised the value of cultivating right view, a knowledge of the path so as to be alert to dead ends and minor alleviations of distress appearing to be major spiritual accomplishments.
Making Buddhist philosophy, meditation practices and methods of inner awakening as clear and accessible as possible was his overriding concern.
He taught a wide range of texts, drawn from the array of approaches and entry points that have evolved in Buddhism for people of differing dispositions. These translations, often the first English versions of key texts, were accompanied by spontaneous commentaries in his precise English, often stretching the vocabulary of his hearers.
Despite the diversity of teachings, and visiting teachers he hosted, he emphasised a unified approach that he called Integrated Buddhism. For decades, his teaching transcripts were saved, until he was sure they were ready to be compiled for publication.
This patience bore fruit. His books include The Benevolent Mind: A Manual in Mind Training, Luminous Bliss: Self-Realisation Through Meditation, Mind at Ease and Essence of Buddhism, each of which went through many editions and translations.
A recent initiative was setting up a multimedia platform, Shogam Publications, whose most recent publication Ri-Me, Buddhism Without Prejudice, was released just months ago.
Many invitations to teach worldwide were accepted by Rinpoche but more were declined. By choice he always spent most of each year in Melbourne, concerned more with the quality of his students' meditative practice and philosophical understanding than with quantity of followers.
In his latter years his students came to appreciate more and more that, as well as being a teacher of great clarity, he also embodied the enlightened qualities the texts speak of.
As the body of practitioners grew, it became possible to establish a contemplative retreat centre in bushland above Healesville, for more intensive practice.
He also established beautiful centres in Sydney, in Auckland, New Zealand, and at Chatham in upstate New York.
Rinpoche is succeeded by his wife, Felicity Lodro, students Kal Kingi and Ani Jangchub, and a community dedicated to continuing his work.