Investigators suspect arson at Buddhist temple
by LEESHA MCKENNY, SMH, December 31, 2012
Sydney, Australia -- A BUDDHA statue stood out among the charred wreckage of a temple mysteriously damaged by fire in Sydney's west at the weekend while its residents were overseas.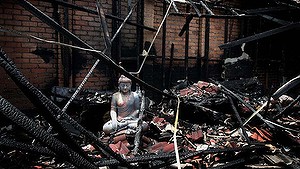 << Charred ... the shell of the temple at Jamisontown. Photo: Dean Sewell
Police suspect arson may be behind the blaze at Jamisontown, near Penrith, and Fairfax Media understands the building has been targeted by vandals several times in the past year.
The property, used as a Korean Buddhist temple for about two years, was well alight when emergency crews arrived about 2.30am on Sunday.
Fire crews managed to contain the fire to half the premises. The remaining structure sustained significant smoke damage. It was still smouldering when NSW Fire and Rescue crews returned to investigate the cause of the blaze on Sunday afternoon.
A prayer room adjoining the kitchen suffered some of the worst damage, including a collapsed roof. A charred collection of prayer books lay near a burnt-out doorway.
A nearby resident, Antonia Iaria, said: ''I've been living here 22 years and we never had trouble with nobody.''
She said a neighbour's dogs had sounded the alarm about 2.30am, and ''the next minute I saw big fire''.
She said the building had stood empty for about three months. Its residents, originally from Korea, had returned there for a holiday, she said.
''We never heard a word from them, they were beautiful people,'' she said. ''They've had a [no trespassing] sign on the gate, they've had a [CCTV] camera there, too.''
Police said investigators would be checking at the temple and with surrounding businesses for security footage.