Plans lodged for 22m high Buddhist temple on Salisbury Highway
by Duane Schultz, News Review Messenger, June 19, 2013
Salisbury, Australia -- A PLAN to build the tallest Buddhist temple in Australia has been lodged with Salisbury Council.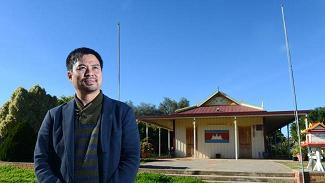 << Oan Ahn from the Khmer Buddhist Association has submitted plans with Salisbury Council to build a 22m high temple on Salisbury Highway Source: News Limited
The Khmer Buddhist Association of SA wants to build the 22m-high temple at its existing site at 376 Salisbury Highway, Parafield Gardens.
Association president Oan Ahn said it would cost about $3 million and eclipse a 17m-high temple in Queensland.
The development would also include 15m-high ornamental gates, a new carpark, landscaping and improvements to the association's community hall.
It would replace the 4m-high temporary temple at the back of the site.
Mr Ahn said his group needed a permanent temple to cater for about 1000 people each week.
"We have raised the money through the community and our Buddhist monks need somewhere to meditate," said Mr Ahn, 45, who migrated to Adelaide's northern suburbs in the 1980s.
"It will look good and it will symbolise and represent our culture.
"We are hoping the plans will be approved as it is not just for Buddhists, but the Cambodian community as a whole and it will contribute to multiculturalism.
"Anyone will be able to visit."
About 2000 Cambodians live in the Salisbury Council district according to the 2011 Census.
A Salisbury Council spokeswoman said the development was under assessment and no time frame had been set for making a decision.
The council rejected the association's plan to build a giant Buddha statue atop a 10m-high entrance to the site in 2011.