Bid to build 22m-high Buddhist temple on Salisbury Highway is in doubt
by Duane Schultz, Northern Messenger, January 9, 2014
Adelaide, Australia -- A PLAN to build Australia's tallest Buddhist temple in Parafield Gardens is in doubt after the Federal Government cut a $150,000 grant to the SA Khmer Buddhist Association.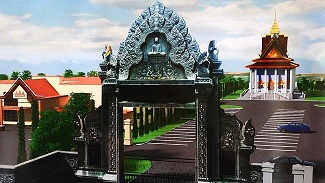 << An artist's impression of the planned 22m-high Buddhist temple on Salisbury Highway Source: News Limited
Association president Oan Ahn said the grant money would have paid for a new carpark at the association's Salisbury Highway site to service the planned $3 million temple and an existing community centre.
The association has spent 20 years raising money to fund the 22m-high temple and 15m-high ornamental entry gates.
Mr Ahn said the association would have to divert money away from the temple plan to fund a new carpark for the 1000 people a week who use the site.
"We desperately needed that carpark as we are trying to address social issues in the community and we just need a bit of help," Mr Ahn said.
"The carpark is a must as in winter, when it rains, you can't get through the gate as it floods so people can't use our services.
"It's very, very disappointing and shows no respect to the community.
"We will just have to take money away from the other projects and hope to make it up later, but that could take a very long time.
"We are angry but we are peaceful people, so what do we do? We feel like it is not fair."
Plans for the temple were lodged with Salisbury Council in June and are still being assessed.
The grant cut was part of $1.4 million axed from the Federal Government's Building Multicultural Communities program last month, as part of cost-cutting measures.
Up to 49 groups had obtained the grants by following proper procedures and the amounts were funded in the 2013-14 budget.
The association helps new arrivals settle in the north, runs training programs for youths and provides support for problem gamblers and drug addicts.
Mr Ahn challenged Prime Minister Tony Abbott to visit the association to see "the good work it was doing without a lot of help".