NSW Fair Trading issues warning over bogus Buddhist monk scam
Sydney Morning Herald, January 8, 2014
Sydney, Australia -- NSW Fair Trading has warned people to be on the look-out for con artists dressed as Buddhist monks after dozens of smh.com.au readers said they had been approached by men in orange garb asking for money.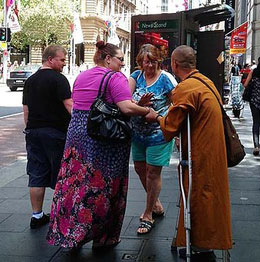 << A man dressed as a monk approaches someone in Circular Quay.
One woman said a man dressed as a monk had tried to lead her to an ATM after she had said she had no cash, while another reader said the "monk" had pulled out a credit card machine.
Pat Brennan, a school teacher from Sydney's east, said he was sitting outside the Li'l Darlin bar in Darlinghurst last Thursday when he was approached by a bald man in orange robes asking for a donation.
Advertisement
"This guy, very authentic, came up on a pushbike, and since it's near Govinda's I thought he must be from there."
Govinda's is a cinema and vegetarian restaurant that also offers yoga and meditation classes.
When Mr Brennan apologised and told the man that he didn't have any cash, the "monk" pulled out the card machine while sitting on his pushbike.
"I said, no mate, you're not getting the credit card."
The man then pedalled away.
Fairfax Media reported on Wednesday that a group of men and women with shaved heads and orange robes had been duping people for donations of up to $50 at tourist hot spots in Sydney.
Readers also reported seeing the monks in Bondi Junction, Bondi Beach, Martin Place, Darlinghurst, Lane Cove and Chatswood - and further afield in Melbourne, Adelaide, Fremantle and New York in the US.
"These people are taking advantage of the public's generosity and have no affiliations with the Buddhist community," acting NSW Fair Trade Commissioner John Tansey said.
"There is no law against begging in NSW but this is nevertheless clearly a scam."
Real Buddhist monks would not approach strangers on the street asking for cash, the Federation of Australian Buddhist Councils says.
"In no way do we condone ordained people, a monk or nun, wandering the streets collecting money," federation president Kim Hollow said.
Criminal law experts said a person pretending to be a monk to get money could be charged with fraud, even though police said earlier that the fake monks had not technically committed an offence because they did not claim to be monks or say they were collecting money for a charity.
"They are claiming to be monks by wearing the garb - that's my view," Greg Heathcote, a criminal barrister in Sydney, said.
Mr Heathcote said it was similar to a person wearing a fake Salvation Army uniform, holding a bucket and standing at a train station in the morning.
"They're playing on that assumption by people," he said. "They're wanting people to think that they're monks and wanting people to think they are collecting for a charity.
"I would think if you could prove those two things - and that mental state - I think they may well be guilty of fraud."
Professor Alexander Steel, a fraud law expert at the University of NSW, said it was odd that police had suggested the fake monks had not committed an offence.
"If you behave in any way that creates a misleading impression then that's the basis for a fraud charge."
He gave the example of sitting down and ordering dinner at a restaurant, where it would be fraudulent to leave without paying.
"There is no discussion between the waiter and the person. The waiter assumes by the conduct of the person they are going to pay.
"You don't need to talk to someone. The way you behave is often more powerful than the words themselves."