Head buddhist visits Whitsundays
Whitsunday Times, 29 May 2014
Queensland, Australia -- ONE of China's holiest men, Abbot Daoci, was officially welcomed to the Whitsundays last week, ahead of a free community seminar about the Guan Yin Buddhist faith at the PCYC on Thursday afternoon.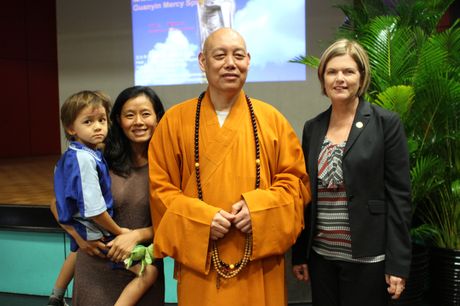 << HONOURED: Cruise Whitsunday Chinese interpreter Bailey Dunlop and her five-year-old son James, were honoured to meet holy man Abbot Daoci, pictured alongside Whitsunday mayor Jennifer Whitney, at the community seminar about Guan Yin Buddhism last week.
Abbot Daoci has not travelled outside China for about 20 years and this was his first visit to Australia.
The man described by some as the Chinese equivalent of the Pope, was invited to the Whitsundays by the Chinese Australia Entrepreneurs Association (CAEAI) president Raymond Wang and Whitsunday mayor Jennifer Whitney, who travelled to his Mount Putuo temple as part of last year's trade mission to China.
The CAEAI expressed an interest in establishing a Mt Putuo temple and Buddhist college in the Whitsundays in addition to their bid for a casino licence and integrated resort.
Cr Whitney was supportive of the idea, saying it had the potential to draw huge numbers of visitors, with more than 10million people visiting the Mount Putuo temple in China to date.
On Thursday morning, an opening ceremony for the new Australian Guan Yin Buddhist Association, was held at the Cannonvale headquarters of the CAEAI.
Through a translator, Abbot Daoci said he hoped the Guan Yin faith could bring peace and harmony for the region and its residents.
He continued to deliver this message at the free community seminar attended by about 120 people that afternoon.
Those who persevered through language and audio difficulties appeared enlightened at the end.
For Proserpine resident and Reiki follower Barbara Barnett, meeting Abbot Daoci was a real honour.
"For me, it's the ultimate to come into contact with a Buddhist monk of his stature because that just doesn't happen," she said.
"You usually have to travel, so to me, this is just so precious."
Likewise Bailey Dunlop, who works as a Chinese interpreter with Cruise Whitsundays, said meeting the holy man was a great opportunity.