Walking Buddhist Monk surprises Northmead teacher
Hillnews.com.au, June 12, 2014
Northmead, Australia -- A Northmead high school teacher had a surprise visit from the walking Buddhist Monk on Wednesday.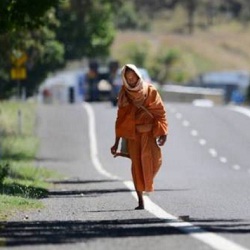 << The Walking Monk. Photo: Barry Smith
Northmead Creative and Performing Arts High School teacher Warren Flanagan was teaching when he was informed through a letter he had a visitor waiting for him in reception.
The Buddhist Monk, named Jason Chan, also known as Jinasiri, has been walking along the east coast of Australia.
"The remarkable thing is that Jason visited with my sister and her husband who lives in Cannonvale, North Queensland," Mr Flanagan said.
"My sister saw the monk walking along the Bruce Highway and she stopped and offered him a lift.
"He kindly declined the offer.
"She asked if he needed a drink and he accepted water in which she poured out from her water bottle into his bowl that he carries. My sister then offered her place to stay and he accepted, but said he would make his own way there by walking.
"Jason did eventually arrive and he stayed with my sister, her husband and their children. He talked to them about life and gave them advice about happiness."
Mr Flanagan's sister then asked that if he ever travelled to Sydney to visit her brother Warren at Northmead.
"The next morning Jason disappeared and continued his walking journey and he was nowhere to be found along the highway," Mr Flanagan said.
"My sister drove along the highway hoping to find him just say thank you and to see if he was OK.
"Two years later on Wednesday morning, I was teaching my year 11 class when I received a message in an envelope.
"The message states: "Dear Warren, I'm the monk who visited your sister Mai in Cannonvale in 2012. She asked that if I ever happened to be around Northmead to visit. So here I am. I'm waiting in reception. Cheers, Jason Chan Buddhist Monk".
Mr Flanagan said he was "surprised, shocked and amazed" with the unexpected visit.
"I made my way down the school office to find Jason sitting in the foyer peacefully meditating.
"As I approached him he opened his eyes and greeted me. I told Jason that I'm still in class teaching and he said, 'I'll wait for you'.
"I had three students ask if they could meet him. I saw Jason sitting there peacefully and patiently in among the commotion of the busy school office and it was a definite contrast of lifestyles.
"I ushered Jason to the garden out the front of the school where we sat on the park bench.
"I introduced the three students, Corey Dohmen, Anja Kranovic and Jennifer Ghadirli. They were amazed by his calm presence and upon greeting him they acted as if they were meeting their favourite celebrity for the first time.
"The students left and I sat with Jason and we talked about life and choices and in this short period of time with the Buddhist Monk he asked if I could pass on one message to give to my sister: 'Tell her I'm Ok'.
"I was confused and asked, "That's it?". He said: "That is all".
"Jason then said he was off to visit a friend who is a quadriplegic in Bossley Park then later he is planning to travel to the Hunter Valley.
"I made my way back to class feeling enlightened.
"Later that night my sister called with the assumption that Jason was staying with me. My sister was hoping she could speak to him, just to see if he was OK.
"A sense of realisation pondered in my mind as I said good bye to my sister over the phone.
"I thought about how happy Jason is and how nothing bothered him and how life itself can really be worry free… just simple."
Monks cannot buy anything and rely on the kindness of strangers donating food and water. So please be generous if you see him.