Australia's First Buddhist-run Institution Blooms
by Angela Fedele, http://sourceable.net, 7 October, 2014
Wollongong, Australia -- Wollongong's Nan Tien Temple has opened Australia's first Buddhist-run tertiary institution with architecture that is as spiritual as its teachings.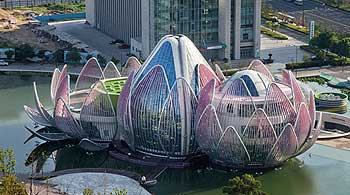 << The Lotus Building directly reflects its symbol
Designed by global architecture firm Woods Bagot for the Fo Guang Shan International Buddhist Association, the new Nan Tien Institute's aesthetic references some of the Buddhist ideals including a strong connection to the environment and a focus on reflective spaces.
At the heart of the design is the Buddhist symbol – the lotus flower – which Woods Bagot calls "a pristine, beautiful bloom that arises from the mud."
Along with aligning with the Buddhist teachings, the lotus flower also reflects the the origins of the site, a former garbage tip adjacent to the temple which the firm says was bought from the local council for one Australian dollar.
Building on a former waste site came about following four years of design and construction work and a multi-million dollar remediation, financed and conducted by Nan Tien Temple.
Spanning 6,000 square metres, the building was formed by grouping spaces into four distinct 'pods' which are linked by active bridges. These bridges allow fluid movement through the building – a reflection of the learning journey comprised of "moments, destinations and thresholds," Woods Bagot says.
The institute also houses an art gallery, a library, a common area with a cafe and academic facilities.
"The building combines the functions of a contemporary learning environment with a destination for visitors to Nan Tien Temple, bringing the community together to reflect and celebrate Buddhist philosophy," said Woods Bagot director and global sector leader in education, science and health Georgia Singleton.
The building, made primarily of precast concrete, features distinctive curved walls and window openings.
"In keeping with the Humanistic Buddhist teachings of Fo Guang Shan, the architecture avoids hierarchy, is modern, values the 'spaces in between' as well as providing a neutral environment devoid of excess and materialism," said Woods Bagot senior associate John Prentice.
This building is the first stage of a larger construction plan which will see a $20 million bridge straddle the F6 (M1 Princes Motorway), linking the temple with the institute.
The project subtly references Buddhist ideals, it follows a growing trend of architects marrying form and function when designing religious and spiritual buildings.
The proposed $370 million Shaolin Buddhist Temple development area for NSW by Conybeare Morrison architects was designed to reflect the original Shaolin temple in China.
Architectural firm, studio505 replicated spiritual iconography more directly with this design of The Lotus Building in Wujin, China. The building was created to establish "a symbolic commitment of the local government's ambitions and future aspirations".