Tony Abbott opens Nan Tien Buddhist Institute at Wollongong as leadership tensions continue
by Emma Partridge, Sydney Morning Herald, March 2, 2015
Wollongong, Australia -- If you don't know whether you'll be prime minister next week – put on your best Sunday shoes, laugh with monks and clean.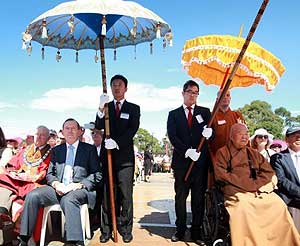 << Prime Minister Tony Abbott at the opening of the Nan Tien Institute's Wollongong Campus. Photo: Sylvia Liber
That's what Tony Abbott did in the face of growing speculation of another leadership spill in coming days.
Mr Abbott's first public stop on Sunday was the official opening of Nan Tien Institute's Wollongong Campus – Australia's first government-accredited Buddhist college.
He took a number of selfies with fans, walked with dragon dancers and drummers before giving a speech that was greeted with loud applause and belly-deep laughter.
Mr Abbott told the crowd Nan Tien translates to paradise of the south.
"I've waited a long time to get to paradise and it's a pleasure to finally arrive."
He recited five Buddhist ideals to the crowd (or perhaps certain colleagues): "Don't kill, don't steal, avoid dishonourable conduct, don't lie and don't overindulge."
"I have sometimes failed in at least some of these respects," he quipped.
He spoke to a crowd of international guests including the founder of the Fo Guang Shan Buddhist Order, Venerable Master Hsing Yun who has 15 million devotees worldwide.
After a thoroughly cleansing event, Mr Abbott left to clean up mess at Killalea State Park for the 25th anniversary of Clean Up Australia Day.
Again he posed for selfies, kissed babies and smiled from ear to ear as he picked up soft drink cans in the pristine reserve overlooking Shell Cove.
He seemed more distressed about not having a surfboard than about the leadership questions he was peppered with by journalists after his short rubbish-collecting stint.
"This is perfect surf for the elderly long boarders," he said, staring out at the aqua water.
At the end of his Sunday, Mr Abbott did not want to talk about the instability of his party – he just wanted to clean and cleanse.
"Well look – this is Clean Up Australia Day. I'm not going to do anything except recycle the rubbish, that's what's happening, we are just recycling rubbish today."