Golden dome completes exterior of stunning Thai Buddhist pagoda in Lyneham
by Michael Inman, The Canberra Times, January 17, 2016
Canberra, Australia -- A sunlit golden umbrella, lowered by a crane on Sunday, has completed external construction of a stunning pagoda in Lyneham.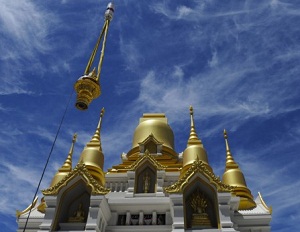 << Hundreds of people attended a ceremony at the Wat Dhammadharo Buddhist temple in Lyneham, where a crane lifted a golden tiered umbrella on to the main dome of the partly constructed pagoda. Photo: Graham Tidy
Almost 1000 people, including Thailand's ambassador to Australia Chirachai Punkrasin, attended a ceremony to celebrate the completion of stage two of the pagoda at Wat Dhammadharo.
The pagoda has been under construction for a number of years and was commissioned – with the royal permission of Thai monarch, King Bhumibol Adulyadej – to mark the 60th anniversary Thai-Australian diplomatic ties.
"The building is to honour the King of Thailand and a cultural gift from the Thai community, both in Canberra and from around the world, to Canberra," project liaison officer, Tip Suthinee?, said.
Ms Suthinee said the building was the only pagoda featuring the traditional Thai architecture in Australia and the southern hemisphere.
She said at 24 metres high, it is also the tallest pagoda of Thai Buddhism in Australia.
The umbrella is screwed on to the spire.
"It's the first of its kind in the way it's constructed. It was pre-fabricated in Adelaide using glass reinforced concrete," she said.
"It was then delivered and installed over the past three months."
The final piece, the golden tiered umbrella, was lowered into place on the main dome of the pagoda to celebrations on Sunday afternoon. Ms Suthinee said it was hoped the pagoda – which can also accommodate Buddhists from other backgrounds – would become one of the most attractive tourist landmarks of Canberra.
"It will definitely attract Buddhist visitors to Canberra."
"Today, we welcomed a mass of pilgrims from all around Australia, including 35 Buddhist monks, for the ceremony."
The Thai Buddhist community will now turn its attention to phase three of the project, which involves completing the interior of the pagoda to house holy relics, and allow monks to perform religious practices.
Ms Suthinee - who also decorated the Thai Embassy in the 1990s - said the temple had already received a relic from Thailand's former head Buddhist monk, who recently passed away, in preparation for the completion of phase.
But she said it would take several years to complete as the money to cover the costs still had to be raised.
"It's a community project so we have to do it in stages so we can raise funds."