Adelaide's first dedicated Buddhist burial site at Enfield Memorial Park
by Jade Gailberger, The Advertiser, February 28, 2016
Adelaide, Australia -- AN error at a Buddhist's funeral has led to the establishment of the first dedicated South Australian burial area for the ancient religion.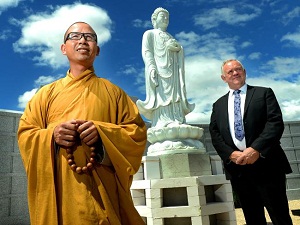 << Buddhist monk Thick Vien Tri and Robert Pitt, CEO of Adelaide Cemeteries Authority, in the new Buddhist garden at Enfield Memorial Park. Pic: Mark Brake
The skeletal remains of a Buddhist were almost ground into ashes by mistake during a cremation at Enfield Memorial Park two and a half years ago.
Adelaide Cemeteries Authority chief executive Robert Pitt said it was customary for many Buddhists to select pieces of bone to take away.
Mr Pitt said it had apologised to the family for the error and had since worked with the western Adelaide Buddhist community to build a Buddhist Garden at Enfield Memorial Park.
It will be the first dedicated Buddhist burial area in South Australia and will feature a statue of the Buddha, which will stand 4m above ground.
The statue, which will be the centrepiece of the garden, was delivered last week from Vietnam, and will be officially unveiled by South Australian Governor Hieu Van Le on April 3.
The event is expected to attract more than 400 people and will feature a procession through the cemetery, a dragon dance, fireworks and an official blessing.
Mr Pitt said it was an exciting development designed to meet the burial demands of an emerging Buddhist community.
"We have learnt a lot about Buddhist funerals and their customs and its been a really enlightening experience," he said.
"Out of something bad, something fantastic has come of it."
"The Buddhist section looks back over the coast of Adelaide towards the west ... and has 115 burial sites, 218 cremation sites overlooked by the buddha statue, with room to extend."
South Australian Head Monk Venerable Vien Tri said the tomb was the place of afterlife.
"We have been longing to have a section, something that is part of us," he said.
"If Buddhists can be buried together with the people in their communities, surrounding culture, they will feel more sacred and at peace and ease."