Meditation meets maths in Melbourne's first Buddhist school in Springvale
by Timna Jacks, The Age, March 20, 2016
Hoa Nghiem Primary School is founded on environmental sustainability and wellbeing - even maths is taught in a thoughtful, compassionate manner.
Melbourne, Australia -- At the foot of a towering pagoda in Springvale, 20 primary school students wave goodbye to their parents.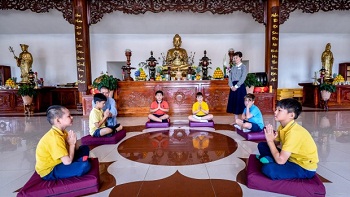 << Meditation is an everyday practice for the 20 young students. Photo: Justin McManus
They are at the Hoa Nghiem Buddhist Temple, where Melbourne's first Buddhist school, Hoa Nghiem Primary School, opened this year.
Just before 9am, the students are asked to form a line outside a classroom, where their principal, Jacqui Bosman, welcomes them.
Students at Hoa Nghiem Primary in Springvale take part in a class outside the temple.
The principal, who teaches the combined grade 3 and 4 class, brings her palms together in a prayer position, and bows before a student at the front of the line.
"Good morning Coltyn", she says.
"Good morning," says 10-year-old Coltyn.
Ms Bosman walks down the line of barefoot students and greets each child individually, before leading the group to their first 15-minute morning meditation session.
The administrators of Springvale's Hoa Nghiem Buddhist Temple spent 10 years raising $7 million (which includes a $600,000 grant from the Office of Multicultural Affairs and Citizenship) to build a Buddhist primary school on the temple's grounds.
The idea was to create a school that would cater to the local Buddhist Vietnamese community, while also welcoming non-Buddhists from different backgrounds.
The principal has worked closely with Victoria's only other Buddhist school, Daylesford Dharma School, to design a curriculum that incorporates Buddhist teachings.
The new curriculum focuses on mindfulness, environmental sustainability, wellbeing and compassion.
"There shouldn't have to be a tension between academic excellence and spiritual or social excellence," Ms Bosman says.
In maths classes, for instance, students will learn about money by comparing the minimum wage in poor and wealthy countries, she says. Students will then be asked to investigate the type of accommodation, food and transport that could be bought with the minimum wage in the respective countries.
"Buddhism is about developing an ability to approach situations in a measured and thoughtful manner," Ms Bosman says. "It's about developing a sense of global citizenship in the modern world."
Twenty students are enrolled in the school, which offers two combined classes. The administrators hope to enrol 120 students by 2021.
Many parents sending their kids to the school have Vietnamese heritage, and are excited that the school is offering Vietnamese as a second language.
The Vietnamese community numbers nearly 12,500 in the City of Dandenong, making up the largest immigrant community in the ethnically diverse area. Nearly 20 per cent of the residents are Buddhists.
Vietnamese parent Min Tan, from Noble Park, says she has poor English skills, and can barely communicate with her two eldest children, who do not speak Vietnamese.
Ms Tan, who is a member of the Hoa Nghiem Buddhist Temple, sent her younger son to the school so he would learn to speak Vietnamese, and "know Buddhism well in the future".
The number of Buddhist schools in Victoria is small, but growing. Quang Minh Buddhist Temple in Braybrook is also planning to open their own primary school by 2018.