Green light for 3-storey Buddhist temple for Adelaideís north by Playford Councilís Development Assessment Panel
by Sarah Rohweder, Northern Messenger, July 26, 2016
Adelaide, Asutralia -- THE United Vietnamese Buddhist Congregation SA will no longer have to use a small house as a makeshift temple under a new plan to build a worship centre in the north.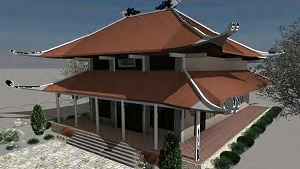 << An artist's impression of the Buddhist temple planned for Buckland Park
Playford Council's Development Assessment Panel last week gave the green light to the congregation to build a three-storey temple on Reedy Rd at Buckland Park.
The temple, which will be the fourth in the council district, will be built on a 34ha parcel of land that is being used for farming and horticultural activities, using greenhouses.
It will stand about 12m high and include cavity brickwork, aluminium windows, timber doors, slanting terracotta roof tiles and a string of traditional decorative features.
Denis McCarthy, speaking on behalf of the United Vietnamese Buddhist Congregation SA, said the land's owners and workers were using a small house to pray in each day.
He said the new temple would provide them with a purpose-built area to use, and hoped it would attract more worshippers from across the northern suburbs.
"The Buddhists are currently using a house on that block of land as a small temple, but it's not really big enough so they wanted to build a bigger temple," Mr McCarthy said.
"It will be a proper temple with terracotta roof tiles, cushions for seating and an alter that will be decorated — it's going to be fairly well organised."
It would be the fourth temple to be built in the Playford Council district.
The temple will seat about 100 people and host major annual events, including Chinese New Year in January, Buddha's Birthday in May and a family fun day in August.
A 30-space carpark will also be built on the site, as well as a second driveway.