Monks make mandalas in peace quest
By VANESSA BURROW, The Standard, July 6, 2005
Warrnambool, Australia -- TIBETAN monks demonstrated their extraordinary patience yesterday as they began creating an intricate artwork called a mandala at Warrnambool's Gateway Plaza.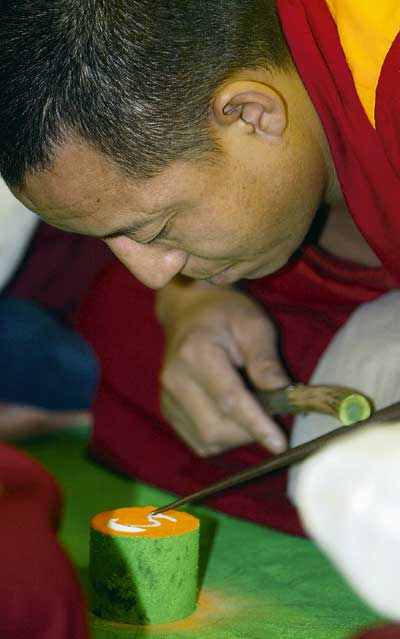 << Tibetan monk Dhondup Wangyal works on creating a mandala using dyed crushed marble and copper funnels at Gateway Plaza. Picture: DAMIAN WHITE
Four monks will use dyed crushed marble and copper funnels to work on the mandala during the next four days before finally pouring it into the ocean or possibly the Hopkins River.
Jampa Wangdak, Dhondup Wangyal, Tsering Phuntsok and Thupten Khanrab, who live in southern India, have travelled around Australia since February on a fund-raising tour for the Drol Kar Buddhist Centre in Geelong.
Their visit also coincides with the Dalai Lama's 70th birthday which will be celebrated tonight with Long Life Prayers, a talk and a film.
Volunteer driver Colin Kelsall, who lives in Geelong, said the group had initially wanted to raise money for a new hospital in Tibet but after achieving their $100,000 target, continued with a new campaign.
Money raised from the Sacred Footsteps from the Roof of the World 2005 tour would go towards a Buddhist meditation centre and retreat to be built in Victoria, he said.
Tour manager Helen Wright said each of the monk's mandalas had been different and while in Warrnambool they would create a Saraswati mandala that promoted compassion.
"The monks generate a wish to benefit all sentient beings and bring about peace and harmony for all," the group's explanatory literature said.
Ms Wright said although people untrained in meditation could appreciate the mandala, only monks and geshes (Buddhist equivalent to a doctorate of philosophy), could comprehend its full meaning.
Tibetan monks have visited Warrnambool twice before, creating mandalas at the city's art gallery.
Birthday celebrations for the Dalai Lama will begin at 7.30pm in the Norfolk Room at South West Healthcare, Warrnambool.