Buddhist centre opens in Kurrajong
by Angela Haberm, Hawkesbury Your Guide, November 24, 2005
Kurrajong, Australia -- It might have taken five years to find a suitable location, but the decision to set up in the Hawkesbury was one a Buddhist group needed to meditate on only briefly.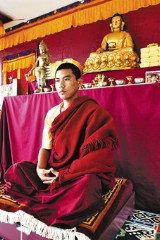 << Comleroy calm ... Buddhist monk Lama Ngawang Tenzin meditates at the new Drogmi Retreat Centre on Comleroy Road at Kurrajong on Monday.
The Sakya Tharpa Ling Tibetan Buddhism Institute purchased 16 hectares of remote bushland at Kurrajong in March as a venue for its Drogmi Retreat Centre.
President Jack Heath said the institute wanted a venue close to Sydney, but removed from the threat of encroachment.
He said their lamas (teachers) had meditated on each site they'd considered for a sign as to its suitability.
"When we suggested the Kurrajong property we received a very good response from our teacher's predictions," he said.
The centre offers a peaceful and secluded venue for those wanting to meditate, learn more about Buddhist philosophies, or just escape the hustle and bustle of a busy life.
Although in early stages of development, Mr Heath said the Sakya Tharpa Ling institute was keen to "develop something that will be here for hundreds of years".
"It can be hard work making a life-time commitment like this, but there is great excitement over the centre," he said. "People will be able to look back in generations to come and appreciate how committed we were to building it."
Since the purchase, a great effort has been made to improve the once run-down property on Comleroy Road.
Sakya Tharpa Ling is currently negotiating with Hawkesbury City Council and architects on an "ecologically sound" plan.
"Everything is solar-powered and we will not be bringing any electricity to the premises," Mr Heath said.
"We want it to be a special place for quiet reflection, open to the community. We hope to also host teachers from all over the world."