A Buddhist day out beckons
By Michael Sinclair, Star News Group, February 8, 2006
Yuroke, Australia -- YUROKE will house thousands of Buddhists from across the country in a celebration for world peace later this month.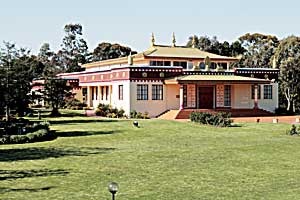 << Celebration... Yuroke's Peaceful Land of Joy Meditation Centre will celebrate Tibetan culture in a New Year's festival later this month.
The Peaceful Land of Joy Meditation Centre is gearing up for its annual festival, showcasing traditional Tibetan culture, food and art and bringing Buddhism to life in Hume.
The temple, which was built using traditional Tibetan design and ornamentation, is nestled in a four-hectare Yuroke property surrounded by lush gardens and traditional works of art.
Officially opened by the Dalai Lama in 2003, the temple grounds house more than 2500 rose bushes, featuring more than 300 varieties.
"People really like it when they come here because it is such a nice and relaxing environment," temple director Anthony Joseph said last week.
"Visitors say how peaceful it is."
The two-day festival is highlighted by a non-denominational ceremony for world peace, but is also a celebration of culture, art, music and tradition.
The festival attractions include a market housing traditional crafts, jewellery , organic soaps, candles and incense.
There are also book stalls, outdoor cafes, photographic exhibitions, a tour of the gardens and tips for green thumbs.
"We're all about having a good day out," Mr Joseph said.
"You can learn a little bit about Buddhism and meditation.
"But there will be a lot of stalls, you can enjoy the gardens, and just relax.
"The Tibetans celebrate the New Year and it's all about getting over the obstacles of the last year or any obstacles that are present and setting them up for the future," he said.
"Celebrating it in the right way is also about creating good conditions for the new year." Organisers are expecting several thousand people to attend over the two days. A range of speakers will talk on a variety of topics.
The festival will be held on 25 and 26 February at the Peaceful Land of Joy Meditation Centre, 1425 Mickleham Road, Yuroke from 10am to 5pm.
Admission is $6 for adults, $4 concession and children under 12 are admitted free. All proceeds will go to help support the temple.
For more information, phone 9333 1770 or visit www.tibetanbuddhistsociety.org.